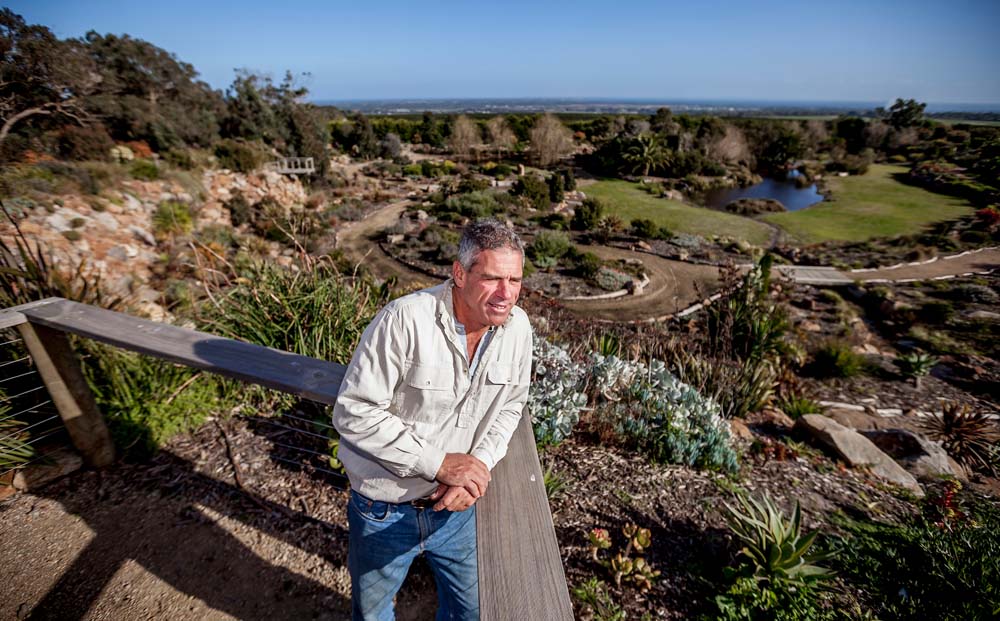 By Melissa Walsh   Photos Yanni
When Nick Smith was driving home from his parents' holiday house in Sorrento 20 years ago, a simple decision to take the scenic route through Red Hill would eventually change the course of his life. A successful entrepreneur and the son of TV and radio announcer Pete Smith, Nick spotted a small 'For Sale' sign at the bottom of the street and took a detour up to the top of the hill where he saw the 55 acre property that he would buy three days later.
Two decades on, Nick has created possibly the largest private garden in the state with Panorama Wildlife Sanctuary and Secret Garden; a sprawling property with over 25 acres of gardens and panoramic views for over 100 kilometres looking out across both Bass Strait and Port Phillip Bay.
" I always enjoyed landscaping and I started building gardens down here for the fun of it. Now I am up to 19 gardens so have created about a garden a year," said Nick, who was first introduced to gardening by his grandfather, and had a brief stint as a lawn mower man after getting kicked out of uni as a young guy. "I got into sales not long after that and have spent many years building and selling companies which is a high pressure career. Gardening is the complete opposite and has been a great way to keep grounded."
As you wander around the estate, it's hard to believe it began as a cattle farm with nothing but a tin shed. Nick's idea to build a couple of gardens has culminated into 19 distinct gardens that are still growing, and a wildlife sanctuary that protects the local fauna.
"When I first got here, the place had nothing. There were wire fences and a shed and that's it. Straight away, I started coming down here four days a week and lost interest in the business side of things.  The first thing we did was clear the dead wood form the property, put in four kilometers of post and rail fencing, and after five years I decided to live down here full time," said Nick. "The first garden I built was the creek I had always wanted a farm on a creek so built 300 metres of it with 800 tree ferns. Funny thing is that was the main attraction and now it is the last thing people look at as there are so many other gardens."
Now there are over 20,000 plants and 8000 tonnes of rock have been delivered to the property from the quarry on the hill.
"The gardening has been a balancer for me. It really is two ends of the stick; you come down here and its peaceful but back up in town business is like war without guns," said Nick. "I see gardens during my travels and have a burning desire to build them."
The biggest project to date is the 1.6 hectare crater garden, inspired by a visit to Ngorongoro Crater in Tanzania.
"I do a lot of travel overseas and going to that national park inspired me to dig out the crater so now we have a five acre hole with 300 tonnes of rock and a lake at the bottom," said Nick, who never does things by half. Other gardens include the fern garden with a stream to create a rainforest environment, English walled gardens, tiered gardens with hundreds of fruit trees, formal European style gardens, lakes, streams, waterfalls, a Universal garden, and seven hidden gardens.
With the assistance of Nick's partner, Annemaree, the property has also become a sanctuary for local fauna.  With the couple both being hands-on with the daily chores, there is the distinct sense that they are welcoming you into their home.
'I look after the animals and Nick takes care of the gardens," said Annemaree, who knows each and every animal by name with rare albino kangaroos, alpacas, cows and sheep, native birds, emus and geese, and even hives for bees.
"As we are a wildlife sanctuary, our aim with the animals is to keep them as much in the natural habitat as possible. For this reason they are not restricted to cages and can roam where ever they like throughout the property," said Annemaree and Nick, who both love taking tours around the property and sharing the magical oasis they have created.
Panorama Wildlife Sanctuary and Secret Gardens offers you an unforgettable garden and wildlife experience that you will never have seen before.