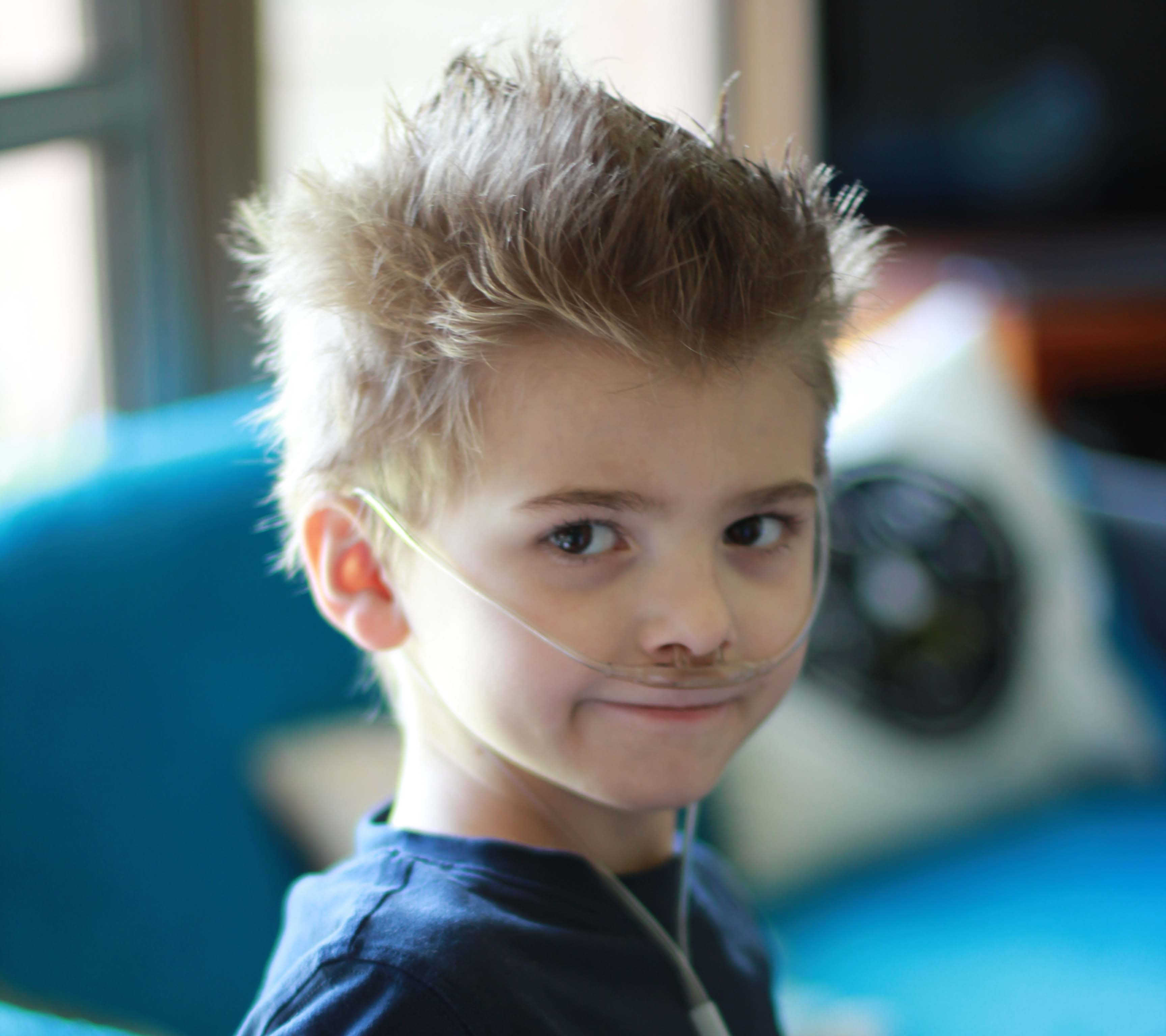 By Brendan Rees   Photos Cameron McCullough
If Mason Johnson could have just one wish it would be simply to play outside like most six-year-olds.
Instead Mason is stuck inside his Frankston home. He shuffles on the living room couch making himself comfortable. Beside him sits his grandmother Ariane, teaching him how to play a board game called Who Is It? Mason is oblivious to the nose prongs wrapped around his head that continuously feed him oxygen as he ponders his next move.
In the background is a loud hum that never stops, like an air-conditioner running, whenever Mason is present. The sound is reassuring, says Mason's mum, Tatiana. She knows the in-home oxygen concentrators in the hallway are doing their job – puffing life-giving oxygen into his tiny airways at a rate of three litres per minute.
Connected to the concentrators is a 15-metre rubber hose coiled across the living room floor from where it winds its way to Mason's nose.
Wearing a dark blue Captain America t-shirt that he received recently for his sixth birthday, a black hoodie with a picture of Lightning McQueen – the name of a red car from the movie Cars – black track pants and white socks with rainbow stripes, Mason giggles with Ariane like any excitable child.
At the end of the couch near the TV sit a Nerf gun and a pile of board games that would not be out of place in the home of any six-year-old boy: Paper Planes, Line Up 4, Avengers and Stikbot. In another pile beside these are Playstation 4 games including Little Big Planet, The Folk of the Faraway, Batman and NBA.
When Tatiana visited the family's local GP a year ago with Mason suffering fever-like symptoms, she could never have imagined what lay ahead.
Last winter Mason tested positive for two types of viral pneumonia. "We started at a GP who said it was probably just a virus and to keep an eye on it. And then obviously nothing was improving," she says.
Mason had battled chronic tonsillitis as an infant and at age three his tonsils were removed. Tatiana recalls with a sigh: "It wasn't too uncommon for him to have a fever out of nowhere."
After a year-long of back-and-forth admissions to hospital, CT scans, X-rays, tests and examinations from lung specialists and immunology teams, Tatiana received dreadful news: Mason had bronchiolitis obliterans syndrome, a rare and irreversible disease that inflames the lung's smallest airways.
Mason's smile is that of a brave boy. His lungs are now at working at just 25 per cent capacity and he is in desperate need of a transplant.
"There's no improving from it. You can hope that it's not going to get worse but there's no chance of getting any better. So it's a matter of learning to live with it," says Tatiana.
"You can't plan your days. You don't commit to anything. You do your best."
Tatiana says the biggest challenge facing her little boy is to learn not to be too energetic.
"If we let him exert himself too much he effectively starves the little airways to his lungs of more oxygen which causes them to die off faster. So it really is quite risky letting him overdo things.
"You feel cruel limiting simple things like he and his brother sitting there giggling. You go: 'Right, guys, come on, time to calm it down a bit.' It's awful."
In one way Tatiana is prepared for the worst. Near the kitchen stands a large oxygen cylinder, of more than 4 cubic metres capacity, ready for use in case of a power outage. Another cylinder rests on a trolley in the living room should extra oxygen be needed.
In another sense, she isn't fully prepared. "When people ask how I am coping I reply 'I'm not.' You only cope because you have to. No choice about it. You can't walk away from it. There's no one else that can step in and take over. We're trying to do as much as we can as a family."
Tatiana says Mason and his brother, Connor, who are both autistic, were invited to a kick-to-kick session with the Collingwood Football Club players at the Holden Centre the previous day. Ariane holds up a signed Magpies Guernsey, announcing to Mason: "You are so lucky!"
"Yep," he says with a beaming smile. "Mine got signed by every single football player."
Asked who is his favorite player, Mason replies without hesitation: "Chris Mayne."
Tatiana says her son is a very fussy eater. "His favorite meal is silverside but he also likes sushi and potato cakes when he's in hospital. The bigger and healthier he is, the more resilient he'll be for surgery."
Mason can read and spell well, and enjoys schoolwork. Also, says his proud mother, he "loves his maths and he really enjoys learning. But obviously at the same time he gets tired very quickly."
As if on cue, Mason walks confidently into the kitchen, smiling and holding a paper plane he's made.
"And what did you say this one was called?" asks Ariane. "A flying fox," he announces. Mason launches the paper plane across the living room before it nosedives into a shelf. "It's had enough," he says, causing Ariane and Tatiana to spill into laughter. "Too cute," says Tatiana.
Like any six-year-old boy Mason loves Marvel comic-book      super heroes. His favorite is Martin Manhunter. He also loves interactive games and Lego.
When Ariane says Mason "gives the best hugs", he pounces on the couch and wraps his arms and legs around her, pressing his soft cheeks against her face.
"Do you want to show your beautiful button peg now?" says Ariane.
Mason lifts up his Captain America shirt and shows his feeding tub. "But see how hard his breathing is? See the way it's compressed? This is from a year of sucking in breath. Someone described it recently as blocking your nose and trying to breathe through a straw."
Mason is off the couch again, on the hunt for something in the living room. Now he's back on the couch holding a laminated book with blue-ribbon binding he made himself. The cover bears the title My Family Book and a photo of him hugging the family's pet dog, Bobby.
He tucks himself against Ariane and reads the first page: "My mum is Tatiana. My dad is Tim. My brother is Connor and I am Mason." He flicks to the next page: "This is me with my brother Connor riding our electric motorbikes."
When Mason turns to Bobby's page he buries his head in his chest. The room falls silent. "I'm sad," he says. As if things weren't tough enough, 10-year-old Bobby had died just days earlier from a tumour. "He wrote him a beautiful card," adds Tatiana.
For a moment, emotion gets the better of her. Although Mason's name is on a waiting list, Tatiana confesses to being "terrified" the transplant won't come in time. Briefly, she covers her eyes with her hands and weeps.
His is such a rare condition that only one other child in this part of the world – a New Zealander – is in Mason's position. Even if a lung transplant is successful, the strong immuno-suppressive drug he's placed on will make him more susceptible to germs.
"It will be his biggest procedure ever. It comes with so many unknown risks," Tatiana says.
When Tatiana sat down recently with the chief specialist at Monash, the prognosis was heartbreaking. "She said: 'I'm worried you could lose him in the next six months.' … As confronting as that was, that is what I needed. She said, 'If you've got any ability to go out and make some memories please just do it.' That was really hard to hear."
Mason says he doesn't like school now: since his electric wheelchair was damaged in floods, he's been house-bound.
Tatiana knows a replacement would restore a measure of independence, but the $17,000 price tag is out of her family's reach.
A fundraiser for Mason's electric wheelchair will be held at Peninsula Obstacle Course on Sunday, September 10. Donations can be made online at www.gofundme.com/3yxcj08.
Tickets for the course are available online from www.porc.com.au