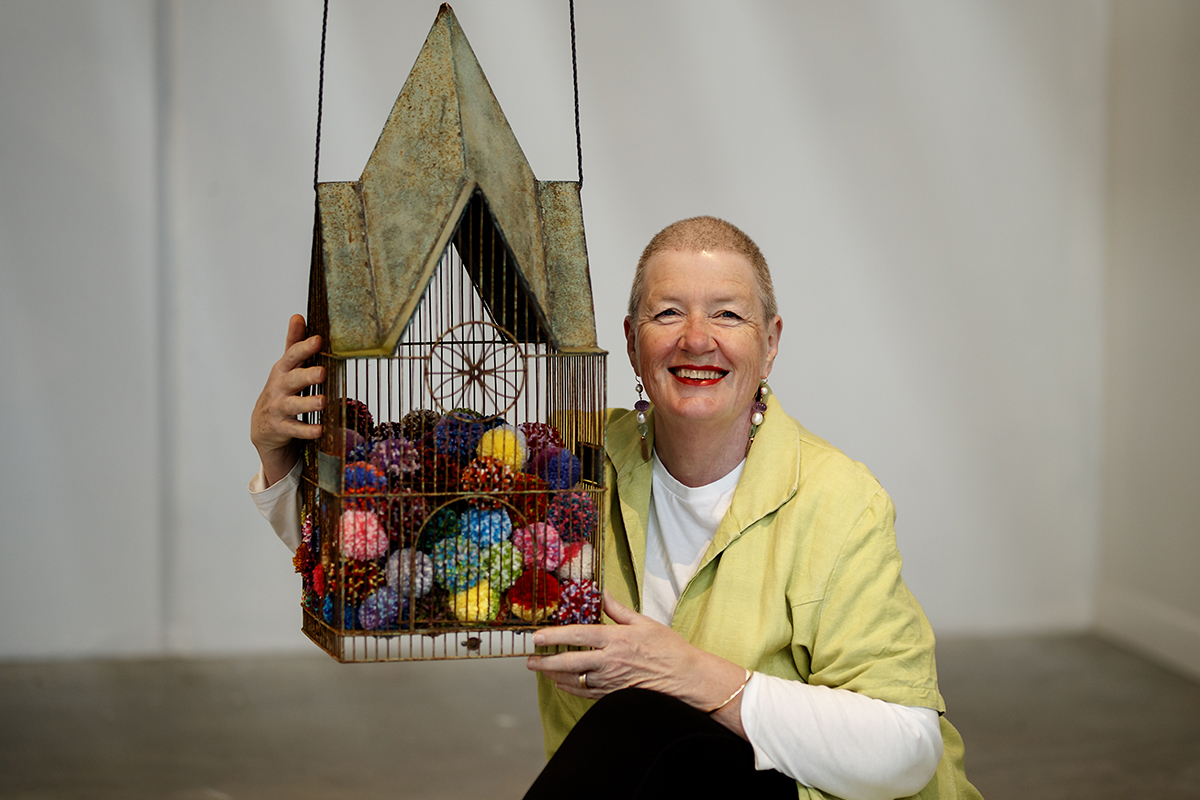 By Andrea Rowe Photos Yanni
Michelle Crozier is an art creator and found-object fancier. Under her artistic name 'Michelle The Gorgeous'. She expresses herself through recycled and repurposed materials that she incorporates into artworks and installations. And sometimes she just makes something special for someone she loves. 
The Rosebud-based creator is not one for boxing herself into an artistic biography, nor is she dedicated to a set medium or materials. "I don't really feel connected to any one arts scene or output," she says. But what she does specialise in is creating whimsical works of repurposed art that capture the essence of joy and love. She's never sure what she'll create next, but she's open to all the places where inspiration takes her.
Recently that place has been the beach. Michelle's collected kilos of discarded plastics from the shoreline during six months of lockdown exercising. She's now putting the found pieces to good 'reduce, reuse, recycle' work on her latest project in her home studio.
"I just love finding things and then considering how I can incorporate them. In non-lockdown times I would find things in op shops to repurpose, but I've had to get a little more creative of late. That's not hard for me though," smiles Michelle.
Michelle utilises everyday and natural materials such as buttons, feathers and textiles, as well as treasured items, and discarded household accessories.
Ask anyone who knows her and they'll tell you that Michelle's hands are constantly busy collecting materials and creating all sort of wonderful works. "The women in my family taught me textiles, knitting, sewing and collage and I'm always working on something. My best friend is a bloke who taught me all the practical stuff with tools so I'm not afraid to tackle big jobs or figure out how to make something that calls on new skills."
Michelle currently has a thing for hearts, really big hearts.
Popular Rosebud café Zarb and Ru commissioned Michelle as part of their focus on local artists and to express their thanks for community support of their business during pandemic times.
Michelle's giant hearts were commissioned to reflect a series of community messages and have since become quite the talking point in Rosebud. Her heart wreath series commenced with "A love letter to Rosebud" heart suspended in the store's window, and was followed by "Heartfelt", a stunning felt creation that stopped foot traffic. Lockdown walkers and take-away coffee customers were keen for selfies of her subsequent design, "We love a good yarn" a rainbow-coloured yarn-bombed heart, and more recently "Heartbreaking" a massive heart with important environmental messages "made from junk found on the beach," Michelle says.
Michelle has loved the opportunity to spark conversations in such a grass roots way. "These positive messages have kept patrons spirits up through the pandemic, and the staff inside have also looked through love out to the world."
"There should be much more art in our community for us all to see and touch. Creativity can really spark joy, it can take you away from yourself, and even if you don't like what you see, you are still stirred to have a reaction."
After graduating with an Art Therapy qualification. She now provides bespoke art support and creates moments for people to connect with themselves and others.
"I like to bring a sense of fun and lightness in for people to dabble, experience and explore while expressing themselves. Creating together often happens over conversations, and conversations often lead to other incredible realisations and connections. I love seeing how people come away from making art with calmer minds, and a lightness to their being. Art doesn't have to be something that is recorded or framed; sometimes art is in the moments."
"For me, art is so self-soothing. And maybe that's why so many people have also turned to art and creating in the last two years; it's a way of soothing yourself when you can't control so much around you."
Along with her two sisters and mother, who also live across the Peninsula, they are a creative and close family unit, as evidenced by their recent collective action to shave their heads. It was a show of support for Michelle's niece who is undergoing cancer treatment – another act of heart-felt art for someone she cares about.
"We really are all walking pieces of art," says Michelle. "But if you can be anything, be kind. That inspires so much change and connection around you."
---
Instagram: @michellethegorgeous