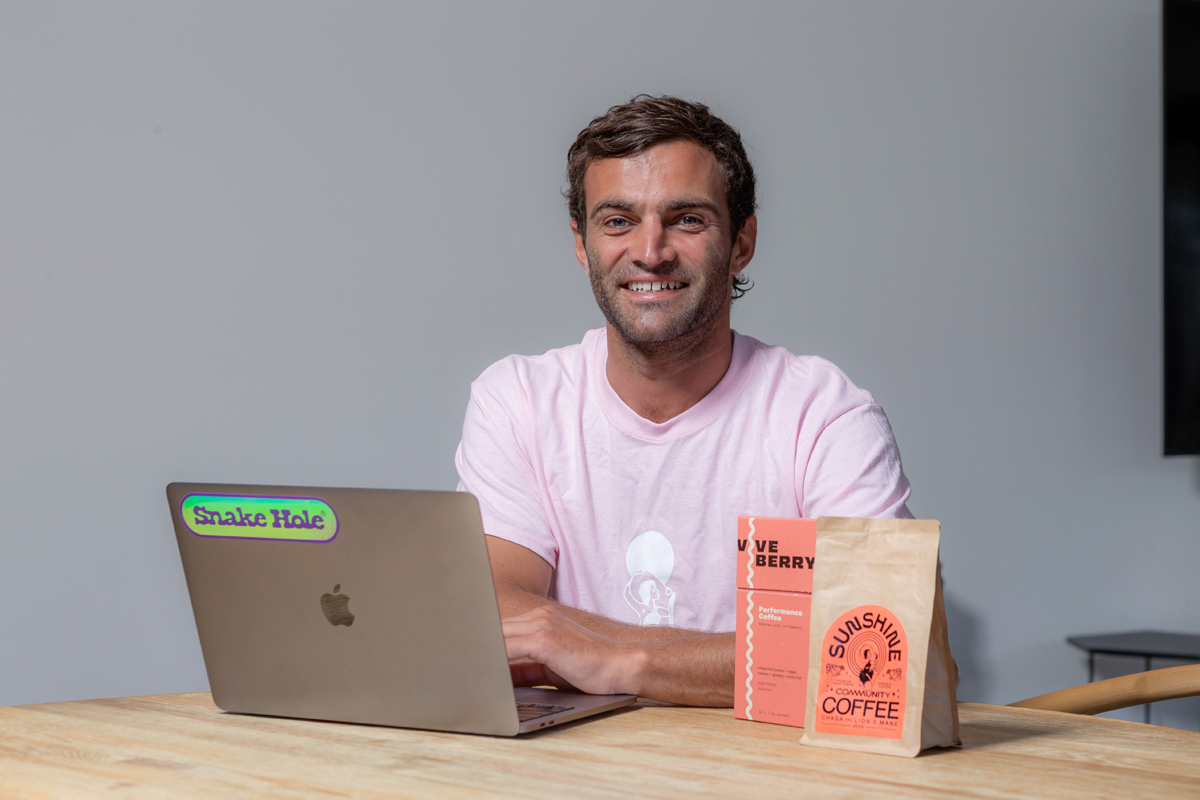 By Andrea Louise Thomas Photos Gary Sissons
Grant Williams is an avid adventurer – a lover of traveling, surfing, diving and running marathons. He's a man very much into nutrition and fitness. He's also a lover of great coffee. Whether surfing in Tahiti or journeying into Outback Australia, in the more remote places, he found a good cup of joe was hard to find. This sparked an idea.
Though a fully qualified carpenter, Grant says, "I knew carpentry wasn't for me long term. I wanted to do something that was my own, that wasn't tied to a place and that was creative." He was travelling around Australia looking for a new place to call home when he got stuck in COVID quarantine in Western Australia. There he had his lightbulb moment.
Grant's aim was to create an instant coffee that didn't taste like instant coffee – a portable premium coffee that could be enjoyed anywhere. He also wanted a twist; a coffee that was nutrient rich to boost performance. That's the twist!
Through rigorous research, Grant discovered the virtues of coffeeberry, the fruit coffee beans come from. It's a nutrient-dense superfood packed with antioxidants, yet it is discarded in the quest to get to its seed, the coffee bean. There are only two seeds in each fruit and it's a labour-intensive process getting to them.
Twenty-five million tonnes of coffeeberry goes to waste every year because it's considered worthless by the coffee industry. So it's thrown into waste piles that decompose and ferment, releasing mycotoxins. They leach into the earth and local waterways destroying native ecosystems.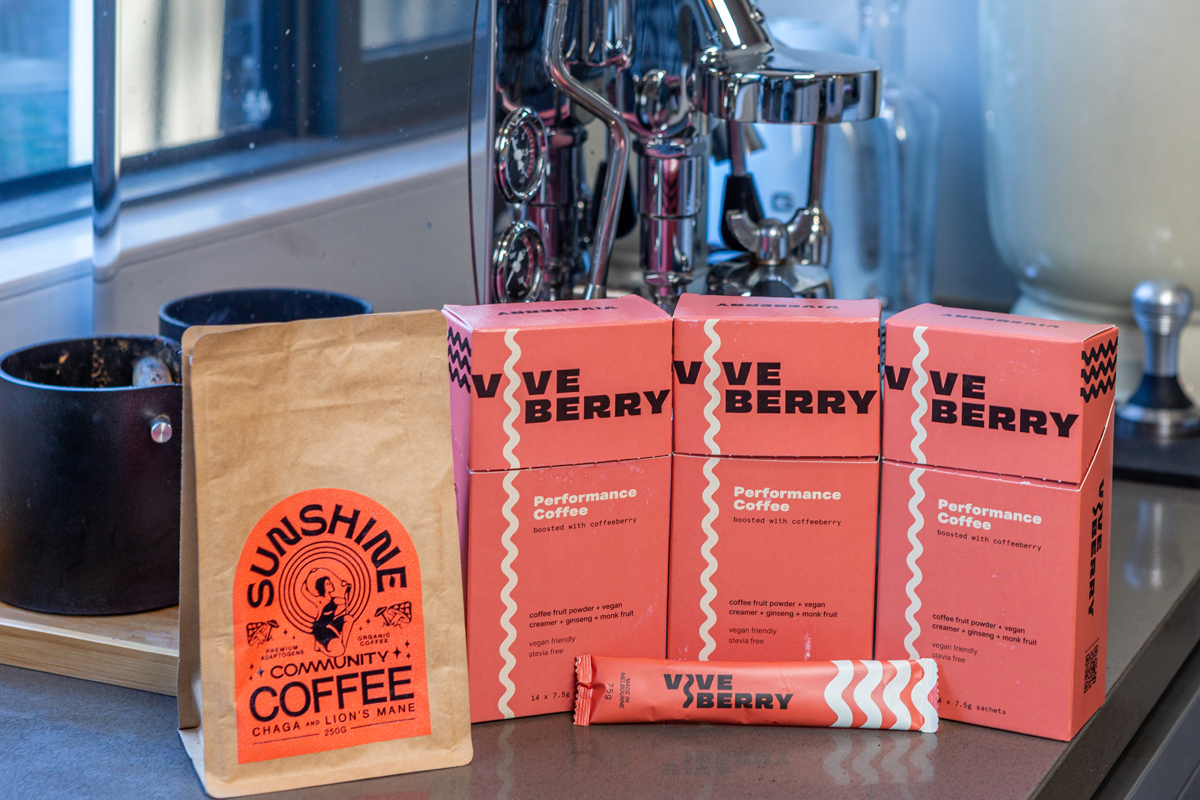 An environmentalist at heart, Grant thought there must be a way to solve this problem. More research ensued. Eventually, he found a way to up-cycle coffeeberry helping offset the impacts of the coffee industry. He would infuse the coffeeberry into his coffee, creating a nutrient rich instant coffee – delicious, nutritious, natural and, most importantly, portable. His business, Viveberry, was born.
Coffeeberry is considered by many to be a 'superfood'. It has the highest antioxidant level of any food and is packed with polyphenols – which research suggests protect against free radical damage and oxidative damage providing protection against high cholesterol, cardiovascular disease, insulin resistance, type 2 diabetes, and unhealthy weight gain. Further research suggests it can also promote brain function, slow aging and protect brain cells.
Viveberry is manufactured in line with Grant's ecofriendly values. Product packaging is recyclable. He also supports international environmental organisation, '1% For The Planet'. Members, like Grant, contribute one percent of their annual revenue to support environmental causes. He is committed to constantly evolving his business in ways that help the environment. Home compostable and/or reusable packaging is the next step in that direction.  
Grant has created just what he wanted. "Viveberry is adventure ready. It's a coffee for anywhere in the world or on the go. You just need to add hot water," he says. It can be enjoyed hot or cold, with milk or without. He likes sachet coffee because it's dynamic. It can be used in lots of ways and it's an easy source of nutrition. Grant's coffee sachets offer a boost of energy, super nutrients and have a smooth, rich flavour.
To get that flavour for his coffee, Grant chose single origin Columbian coffee beans. These beans have notes of chocolate, nuts, herbs and fruit with a citrusy acidity. Columbian beans make a medium bodied coffee with a silky finish and just a hint of the tropics. Viveberry also has ginseng, monk fruit and MCT oil – a potent combination that offers "all boost, no crash" according to Grant.
"Instant Vive is an easy, delicious and environmentally conscious instant coffee for all occasions – on the job, the next big adventure, the next ultramarathon or just the next time you're craving a coffee that's good for you and the planet," he says.
Grant's Viveberry mission is accomplished. He's recently partnered with Sunshine Community. Their organic coffee is infused with lion's mane and chaga mushrooms. More nutrient magic. All products can be purchased online or you might find Grant at a local market talking to folks about Viveberry – his eco-conscious coffee with a kick.
---