By Andrea Louise Thomas Photos Yanni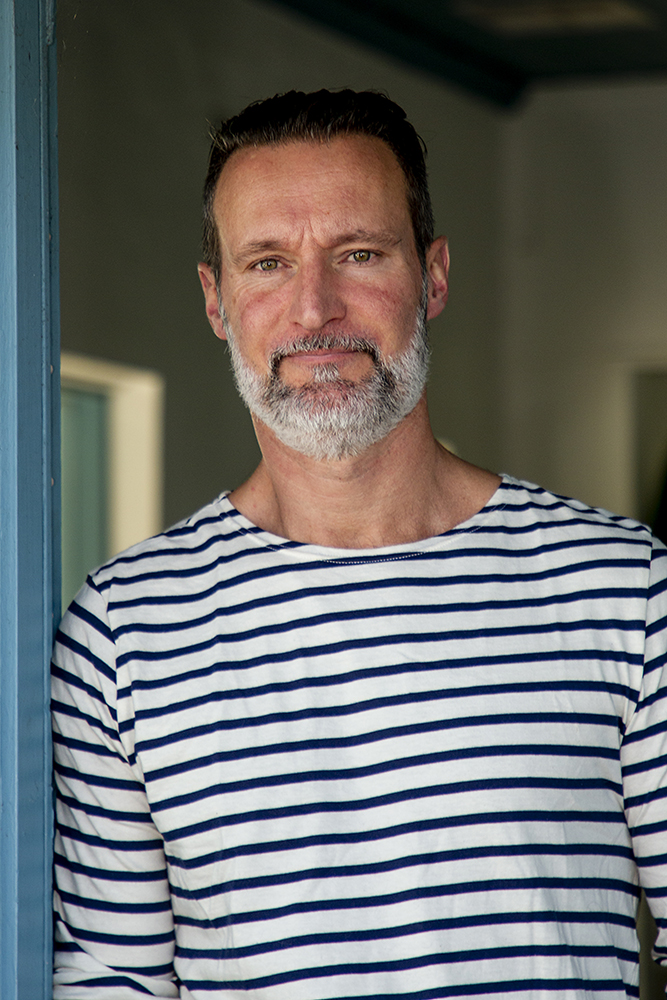 I love experimenting with flavour," says Loïc Duchet, French cook and proprietor of Le Capucin, a French café and takeaway restaurant in Portsea. He was raised in a tiny village in South West France, where the flavours of traditional cooking were an integral part of the culture.
Living in such a small village often meant sourcing food through hunting and gathering to bring meals to the table. Fruit and vegetables were grown in kitchen gardens and other staples of the diet came from local farms.
Both of his parents were great cooks. The Duchet family lived in a house built in the 1770s with a huge fireplace where some of the cooking was done. One of the methods used involved a capucin. (This is where the name of the café comes from.) It's an ancient cooking utensil used to baste birds on a hand-operated fireplace rotisserie. Loïc's family often cooked in this way.
Most of the cooking still took place in the kitchen. "The kitchen was the place to be. Children cooked alongside their parents. Cooking was a family experience," Loïc says. His parents didn't use recipes. Every dish was taste tested. Once meals were served the dining would last for hours. So, Loïc has ample experience with traditional French food.
He wasn't always involved in the business of cooking. The majority of his professional career was spent in retail sales and management. He worked for Quiksilver in France. After a number of years, they sent him to London when the company was expanding into the UK. This was a game changer.
Loïc went to work in their Covent Garden shop. Working there was a beautiful Australian named Kirsty. The pair instantly fell in love. They lived and travelled in Europe for several years before deciding to move to Australia.
Loïc continued to work in retail upper management before he and Kirsty had an epiphany. Why not take their mutual love of French food, his passion for cooking and flair for customer service, and open a French café? The decision was made.
In 2017 Loïc and Kirsty spent six months travelling in France researching, collecting recipes and trying local cuisines. They opened Le Capucin in 2018. While recipes are important for consistency, tasting still determines whether a dish is just right. "We make all of our own stock and we taste every batch," Loïc says. They also have an experienced chef on site and together they produce beautiful meals.
In France, Loïc loved cooking for his friends and family. He stills does, but now he and a small team bring that passion for food to tables on the Mornington Peninsula. For the most part, ingredients are sourced locally. The meat comes from a Sorrento butcher and the produce comes largely from local supplier, Scicluna.
Outside of the ingredients, slow cooking is the secret to their success. Dishes are cooked for several hours to bring out all the flavours. Loïc loves every dish he makes and you can practically taste his enthusiasm.
While Le Capucin serves excellent coffee and tasty pastries, it is their delicious traditional French food that keeps customers coming back. Coq au vin, boeuf bourguignon and cassoulet with duck confit are extremely popular, but there are many other dishes on the menu. Food can be picked up fresh or frozen. If it's available on the day, it can be eaten in the café.
Loïc and Kirsty have brought the traditional flavours and slow cooking methods of hearty French country food to Portsea and every bite is worth savouring – slowly.
Recipe
Cassoulet au Canard Confit
Serves 12

INGREDIENTS:
12 Maryland duck legs*
2 tsp of duck fat
200 grams finely chopped shallots
200 grams finely chopped carrots
200 grams finely chopped celery
2 tsp of garlic finely chopped
2 tsp of tomato paste
200ml white wine
6 slices of cured pork belly cut in half (we use my home made cured ventrèche which is similar to pancetta but flavoured differently)
1 ltr chicken stock (made in house)
500 grams of dry cannellini beans
12 sprigs of fresh thyme
4 bay leaves
2 large sprigs of rosemary
1 tsp salt
½ tsp pepper
12 pork sausages coloured in olive oil (The local butcher makes Toulouse sausage for this recipe)*
Method:
Sauté vegetables and garlic in duck fat.
Add tomato paste and cook for 10 minutes to reduce acidity.
Deglaze pan with white wine and add chicken stock. Reduce by 1/3
Season, add fresh herbs and then the beans.
In a large tray add the pork belly slices, pork sausages and pour over bean mixture.
Cook, covered, in oven at 190 degrees until beans are soft but still slightly firm, uncover for the remaining 30 minutes.
Cook legs in duck fat, garlic, bay leaves and fresh thyme at 120 degrees uncovered until the meat is tender and skin as coloured.
Place confit legs under the grill for a few minutes to get the skin crispy.
Adjust seasoning if necessary.
When the beans are cooked, serve one sausage, one piece of ventrèche and a couple of ladles full of beans mixture on a plate and add the duck confit on top.
*The day before, the duck legs are cured in salt for 14 hours.
*The sausages are also precooked in olive oil until they get slightly coloured.
Confit, (from the French word confire, literally "to preserve") is any type of food that is cooked slowly over a long period of time as a method of preservation. Confit as a cooking term describes when food is cooked in grease, oil or sugar water, at a lower temperature.
---
Le Capucin, 3770 Point Nepean Road, Portsea
Open every day from 8 am -1 pm except Wednesdays.
p. 5984 3243  |  www.lecapucin.com.au