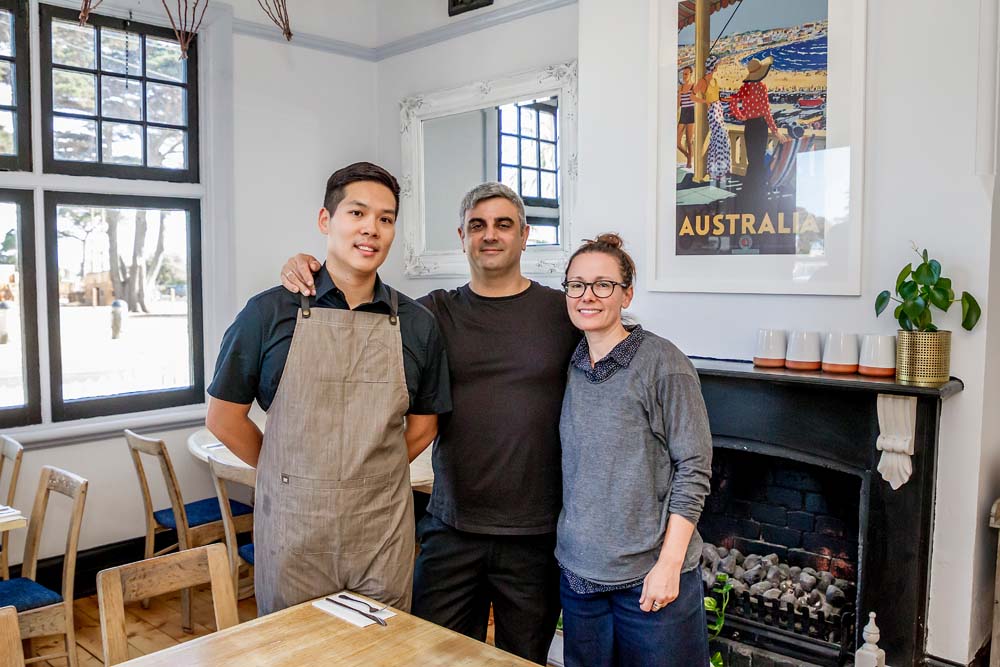 By Melissa Walsh Photos Yanni
A proud testament to another era, the Counting House has been waiting patiently for the right owners to come along and bring it back to its former glory. That's precisely what three friends did when they came across the site a year ago and decided it would be the ideal venue for their restaurant and bar. Now the building, built as a bank in 1912, has a new lease on life with the opening of The Counting House Bar and Grill. Peninsula Essence talks to the owners, Kevin Ko, Arbel el Sharafy, and Jana Lipold about their foray into business ownership and a lifestyle change to the Mornington Peninsula.
"I moved down here in March after living in the city for many years," said Jana, who had worked alongside Kevin and Arbel at La Camera, Southgate. "It was interesting as Arbel and Kevin came down for a visit and happened to see the deserted building, saying they would love to start a restaurant there."
With Arbel as an experienced chef and Jana and Kevin well versed in front of house it was the perfect combination for the trio who soon discovered the business was up for sale.
"We were driving past one day on a visit here and became intrigued by the venue," said Arbel and Kevin, of the Counting House with its incredible living history. "It is an amazing building with a stunning history and a waste to not be utilised."
Before they knew it, the wheels were in motion to start their own business, which evolved quickly into a restaurant and bar.
"We worked day and night doing the renovations and creating a menu and venue that would be exactly what we had dreamed of," said the trio. "The building was restumped and totally given a makeover to bring it back to its former glory.
With an official opening on February 19, The Counting House Bar and Grill has already become a favourite haunt of locals with its meat based menu and tapas style dishes.
"It has such a wonderful history with the old vault we use for storage.The steel vault door is so heavy and we had to get new keys especially made for it," said Jana who was intrigued by the history of the Counting House. "I love that the main inside dining area was a bank with the original front door, and the rest of the house the family quarters."
These days, the three owners live in Mornington and embrace the new, slower paced lifestyle.
"It has been everything we have wanted here and we can't wait for more people to come along and discover our new restaurant and bar and see there is life in the old counting house yet."
Recipe – Lobster Roll
INGREDIENTS
3 units cooked lobster tail – shelled
1 small carrot
1/3 fennel bulb
3 pink radishes
½ daikon
¼ head celeriac
1 cup mayonnaise
1tsp Dijon mustard
1tbs chopped capers
2tsp tabasco sauce
2tbs chopped chives
2tbs chopped parsley
1tbs chopped tarragon
Salt, white pepper to taste
TO SERVE
4 hot dog buns
Melted butter
METHOD
Place mayonnaise into a large kitchen bowl. Using the vegetable grater, grate all vegetables into the mayonnaise. Chop lobster tails and add to the mixture. Add chopped herbs and season with tabasco, salt and pepper.
When ready to serve, cut each bun length ways across the top, butter the bun on both sides and grill slightly in a warm pan until the bun caramelises.
Fill the pocket with the lobster mixture and serve while the bun is slightly warm.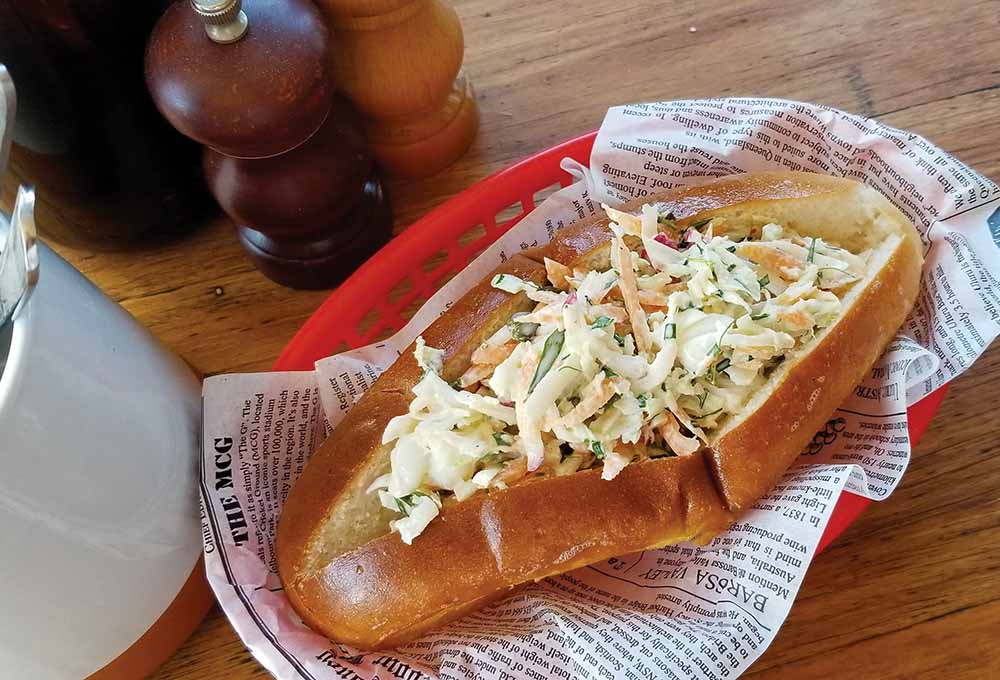 ---
787 Esplanade, Mornington
Phone 5975 2055
www.countinghousemornington.com.au