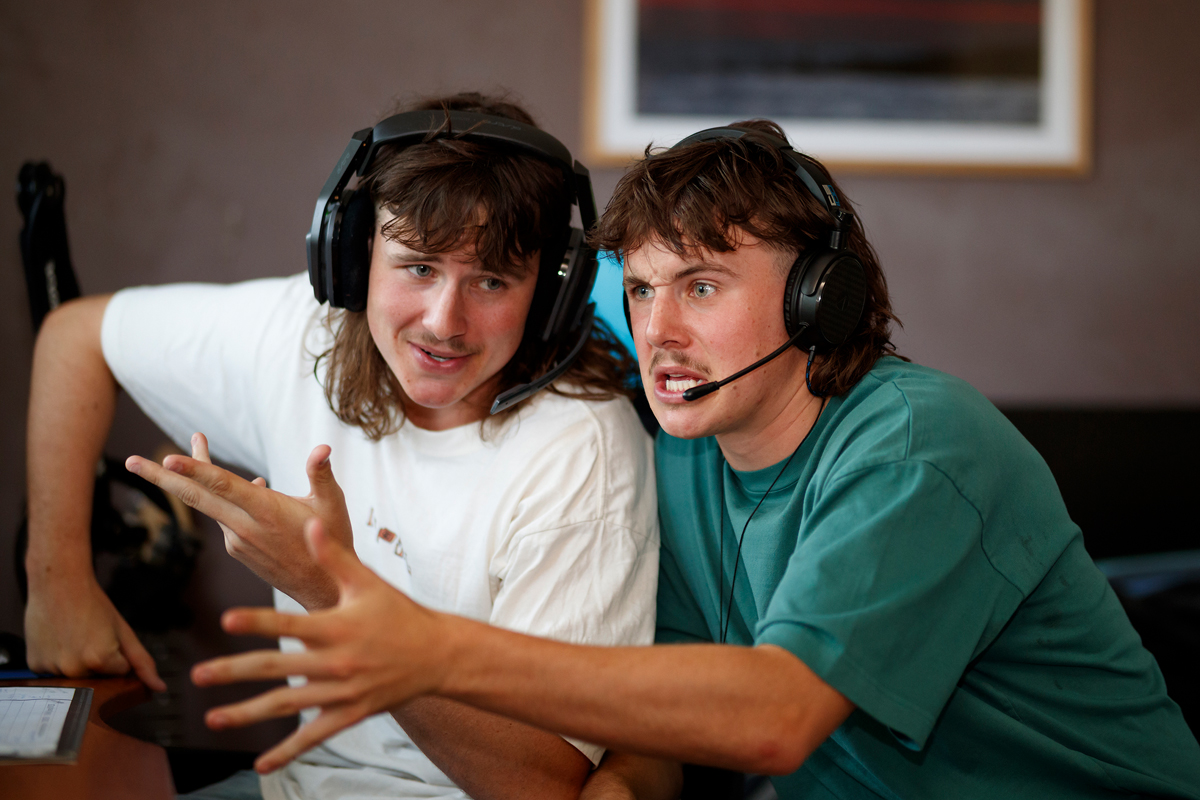 By Joe Novella Photos Yanni
When you think of famous sports people of the Greater Frankston and Mornington Peninsula regions, names like John Coleman, Dermott Brereton and Debbie Flintoff-King spring to mind, but most people have probably never heard of Miles and Archie Shepherd – aka Shepmates. However that may all be about to change, especially if the Shepherd boys continue on their trajectory of making sports commentary gold, in which case they may end up outshining them all.
Miles and Archie Shepherd are twin brothers from Balnarring who have taken social media by storm, going viral with videos of themselves lip-synching the commentary of well-known commentators like Brian Taylor, James Brayshaw and Bruce McAvaney just to name a few.
Shepmates' lip-synching videos cover iconic moments in sport like Tiger Woods winning the US Open or David Zaharakis' winning Anzac Day goal. The videos of the Shepherd boys doing their commentary have found a huge audience, played millions of times by people all over the world, shooting the Balnarring locals into internet superstardom and garnering the boys a cult following. The videos have also come to the attention of organisations like the AFL and Channel 7, who recently invited the twins to participate in the 2022 Brownlow Medal presentation by interviewing players such as Patrick Cripps, Lachie Neale and the Daicos brothers.
The twins rise to fame was founded in their love for sport. Growing up on the Peninsula they tried a variety of sports including soccer, cricket, athletics, tennis and golf but their true love was AFL, the whole Shepherd family being mad Richmond Tigers supporters, they even had Jack Reiwoldt star in one of their videos. Currently, both Archie and Miles play for the Crib Point Football and Netball Club.
"Yep we both still play at Cribby," said Archie. "We love it down there, great club, great culture, full of the young friends/families we've grown up with and the club is the definition 'community' stacked with selfless volunteers working together for a community goal. We have been there for 5 years, started as underage u/19s right through to seniors now."
So how did the Shepherd twins go from playing sport to commentating on it? "Shepmates originally started in COVID," Miles explained. "Myself and Archie were working full time at Bowen's Timber in the Sales Room and every night we would tune into KIIS FM's 'Australia's Easiest Quiz' and we filmed ourselves answering the questions, and in the space of a few months we gained 10k followers.
"Then on day one of the 21-22 Ashes Series, I couldn't watch the game so I was listening intently to the radio and Mitch Starc bowled Rory Burns first ball of the Ashes series! I couldn't believe it, the Triple M call from James Brayshaw was awesome and I don't know what came over me but I got home, grabbed our little bro's PS4 headset and pressed record of me lip syncing and reacting to the commentary. I didn't think much of it, obviously I thought it was funny, but overnight it blew up. I looked at my phone in the morning and the video had skyrocketed, Archie and I knew we had found a good thing for the summer, we made a video most days and they kept getting bigger and bigger. Now we do all sports lip-synching videos and still crack ourselves up doing it."
The twins rise to fame has been nothing short of spectacular with Shepmates in high demand in media circles including radio outlets like FOX, K-Rock, KIIS and SEN and TV coverage on the Today show with Karl Stefanovic and Channel 7's Commonwealth Games coverage. Perhaps the pinnacle of their media work has been at this year's Brownlow Medal where they were asked to interview players as they arrived.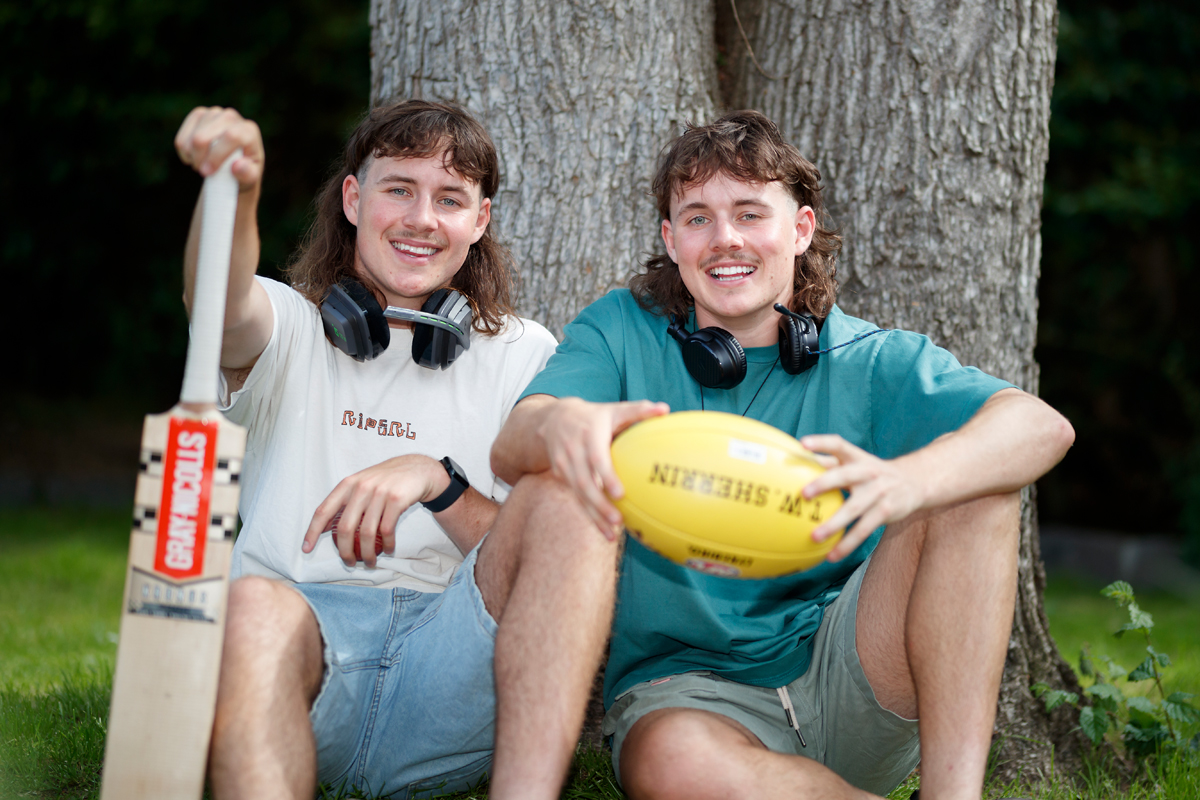 "It was our first real Q&A media gig for the AFL, so we wanted to nail it. We were confident going in, we had a good concept, a good suit, and a good attitude, it's hard to go wrong. Plus, we're comfortable talking to anyone, let alone footy players, we deal with them locally however some of the stars like Nat Fyfe got the heart racing, ripper bloke. It was probably one of the greatest nights of our lives, the players loved it, we were buzzing, got lucky at the casino then ended up sneaking into the after party! We had A-List players coming up to us at the party – it was bizarre."
You would forgive the Shepherd boys for losing themselves in all the fame and attention but they're pretty determined to stay true to who they are. "I think we both still have to take a step back when people say we're famous because we still don't believe it. We've dealt with a lot of people now who are 'famous' but we treat everybody the same, so we see these 'famous' people as just normal people, which is how we see ourselves.
"It's hard to see what you look like to other people. Sometimes you don't know the magnitude of the numbers on social media; it's hard to register how many eyeballs have seen our faces and videos. And we only realise that when we do media or if we head out in the city and people are asking for photos and signatures and all that, it's kinda crazy. A lot of the time we're at home, in the comfort of our local town and everything feels normal and then we step outside for a bit and remember we're kinda well known now."
Whilst the twins are determined not to let all the fame and attention go to their heads, they definitely acknowledge their life has changed in a dramatic way. "Completely changed our lives and trajectory, it's given us a newfound passion for creativity, social media, film, marketing, working with other talent, podcasting…just to name a few. It's opened our eyes to a new world and unlocked the passion we've both had for a long time – making videos and being entertaining.
"It makes us want to do good, and be good influencers, nothing makes us happier than when kids come up to us wanting photos, we can have influence over them in a positive way. Social media can be a dark place, especially for kids, and if we're spreading laughs and a good message in whatever we do, that's our main goal."
When Miles and Archie aren't making videos, they like to get out and about on the Peninsula at favourite hangouts including Phase 2 Café Balnarring, Gunnamatta Beach, Bushrangers Bay and the Red Hill Trail. But spare time isn't something the twins have a lot of with a very busy schedule including balancing their Shepmates comedy skits with university studies. And they have huge plans for the future including podcasts, a potential comedy show and acting gigs. And the twins have just launched a range of merchandise.
"Yeah, it's exciting! Big range of t-shirts, couple jumpers, hats, stubby holders, beanies, etc. We designed our own Tip-Rat Milne Hoodie which is available following the success of our Tip Rat video from last year. There's something for everyone that supports us and we really do appreciate the love and support from everyone."
To find out more about Shepmates, or view some of their commentary gold, head to their TikTok page