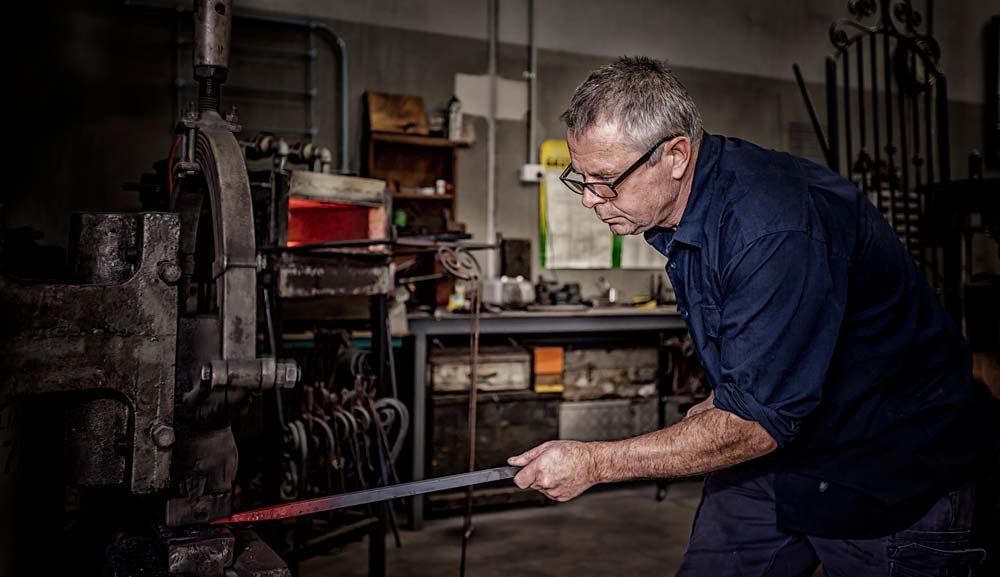 By Melissa Walsh   Photos Yanni
Just as a blacksmith forges a piece of metal to crate a shape, Glenn Kennedy – owner of Peninsula Wrought Iron, has had to bend with the times. You don't last more than thirty years in a traditional trade like this without learning to be flexible and this Peninsula blacksmith has certainly done that. Peninsula Essence visits Glenn in his Tyabb factory where the heat of the furnace is a sharp contrast to the cold winter day outside.
With a grandfather who worked Clydesdales, young Glenn was introduced to horses from an early age and was soon doing his farrier apprenticeship in Gisborne. However, a chance encounter with Scottish blacksmith Edward Martin would change the young apprentice's life forever.
"Edward came over from Scotland doing clinics and was staying at my old boss's place in Gisborne.  He stayed for several days and that is when I was first introduced to artistic blacksmithing," said Glenn, of the man who had a profound influence on farriers worldwide. "I was already doing my apprenticeship but I realised then the other things I would have the skill to do."
For three decades, Glenn has managed to stay in a trade that has been around for hundreds of years and evokes images of rugged old bearded men covered in soot from the furnace, pounding the anvil in pioneer days.
"I guess I am one of the lucky people who have always managed to do what they love," said Glenn. "The business has evolved over the years but the practical skills have stayed the same. Apart from small advances, blacksmithing is the same as it was hundreds of years ago."
Starting out as a farrier, Glenn packed up and moved to the peninsula in 1990 where there was plenty of horse work.
"I worked as a farrier for years but always kept my artistic blacksmithing on the side," he said. "Being a farrier is a tough gig as it is physically very hard on your body when you are under a 500kg horse."
These days, Glenn can't remember the last time he made a horse shoe and says it's not often that you see an 80 year old farrier as the body can't sustain it.
Luckily for Glenn he had the perfect balance of artistic talent and business mind to transition to the next stage, and sustain a career as a full time blacksmith.
"As the years went on I realised I had this artistic side and would start making more and more creative things," said Glenn. "It's like anything. The more you do it, the better you get. But I did realise that you can't just be artistic. You have to be smart in business too. I originally started the business in Melton as Kirkton Forge but changed it to Peninsula Wrought Iron when I moved to the peninsula."
Moving to live in Somerville, Glenn worked the business from a humble workshop on his property.
"From there it operated two coke forges offering a broad based general blacksmithing service including the shoeing of light and heavy horses whilst also manufacturing custom practical and ornamental ironwork direct to the public and trade.   From this small workshop Peninsula Wrought Iron produced some of the largest scale gate projects ever seen on the Mornington Peninsula of the time.  After two and half years the workshop was then re-located to Balnarring where, whilst still continuing to produce custom work direct to the public,  Peninsula Wrought Iron designed and developed  a range of indoor and outdoor furniture which was sold for many years  exclusively by Sequel Furniture in High Street Armadale, Melbourne," he said.  "As the business has grown I have needed more space and now have a huge factory in Tyabb where I do ornamental ironwork and general blacksmithing."
Glenn says much of his work starts with clients having a vision for what they are after.
"I will do a consultation with them and find out what they are looking for. Then I turn that vision into a reality," he said. "I work with the client every step of the way."
Over the years Glenn has made everything from wrought iron gates and fences to doors, garden ornaments, sculptural work, garden and entrance gates, balustrade and fencing, indoor and outdoor fixtures and fittings.
"We specialise in unique one-of-a-kind pieces and make sure our rust prevention is second to none. I always say to clients I don't want to see you again until you need something new made," said Glenn.