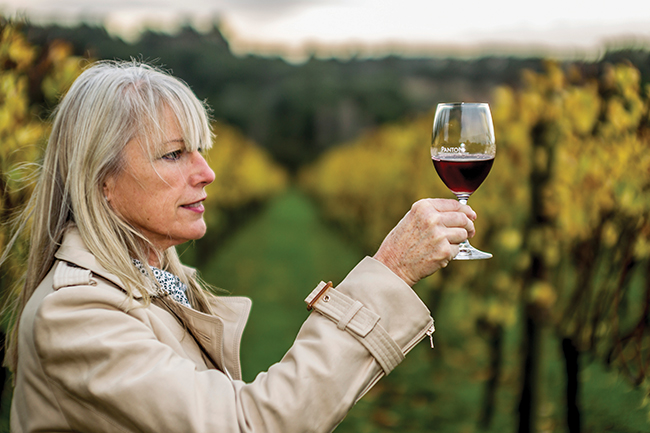 When mother of three, keen gardener, and former school teacher, Karen Panton, moved to the peninsula 20 odd years ago, she would never have dreamed of one day running her own winery. But as life often takes us on a journey we least expect, Karen has used all her talents and lots of hard work to create a successful and thriving business at Panton Vineyard in Shoreham.
Overseeing the 11 hectare property with six hectares of grapes is a full time job which the 53 year old thrives on. "I love creating an experience for friends, family and guests with wonderful wine and tasting plates and know this is exactly where I'm meant to be," says Karen, sitting at her cellar door looking out over the vineyard. "I have tried to create an experience like being in Tuscany, with a long wooden table under the trees overlooking the grape vines, and a casual and welcoming atmosphere."
Overseeing and living on an 11 hectare winery in Shoreham is as good as it sounds, according to Karen, who lives a life most could only imagine, where her day begins waking up with the sun, putting on her boots and doing the rounds of the property with her dog, Bear.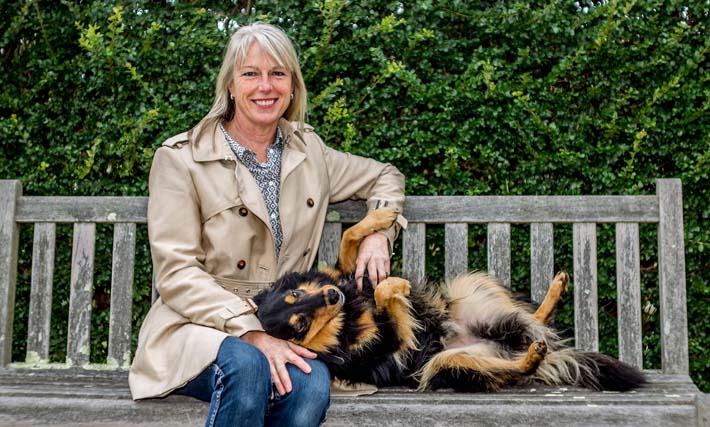 "That seems to be my routine with Bear most days. We feed the chooks, and do a lap of the property, feed the horse and go right down to the lake and do the rounds. Usually when I do that I start formulating my idea of what I'm going to do that day. By the time I've had my breakfast I have a plan for the day. It could be doing a few hours in the vegetable garden, working amongst the vines, setting up for wine tasting, garden maintenance or even bookkeeping. Although I tend to be keener on the outdoor activities," she says with a laugh. "This time of year I start pruning the vines and making plans for winter improvements. We will close after the winter wine weekend and then reopen at the end of September. That way we can get all the projects done we have in mind."
Although Karen was born in the UK and lived most of her life in cities, she has always had a penchant for the country life. "When we lived in Horsham many years ago I loved the country people and decided to move to the peninsula after that for the rural lifestyle. I always felt the most at home on farms and loved this property from the moment I saw it. It was very run down  inside and out as it had only been used as a holiday home but hada lot of appeal," said Karen. "It wasn't long before Tucks Ridge approached us to use the land for vines, and that was the catalyst for the winery."
That was 19 years ago when Karen and her family started planting a vineyard for Tucks Ridge who helped establish it and guaranteed buying the fruit. "The first vines were the Pinot Noir and Chardonnay, and then a year later the Pinot Gris and Sangiovese," said Karen, who had grown up with an appreciation for food and wine. "You learn a lot by talking to the people and doing the jobs on the vineyard. We ended up employing a man who worked for us full time. As the years went by and the seasons, I learnt about maintenance, did pruning, harvesting, and ten years ago I did a wine technology course."
For a lover of gardening, Karen found she had an innate understanding for growing grapes. "I've always been very hands on in the garden growing fruit and vegetables so I had a sense for grape growing. I knew this was where my heart wanted to be as soon as I moved here and haven't looked back," said Karen, who went on to do a wine making course, and 18 months ago opened a cellar door. "I had a vision from when we moved here. It was more a feeling of how I would like it to be with the notion of one day opening a cellar door to showcase all the work we had put into the vineyard over the years."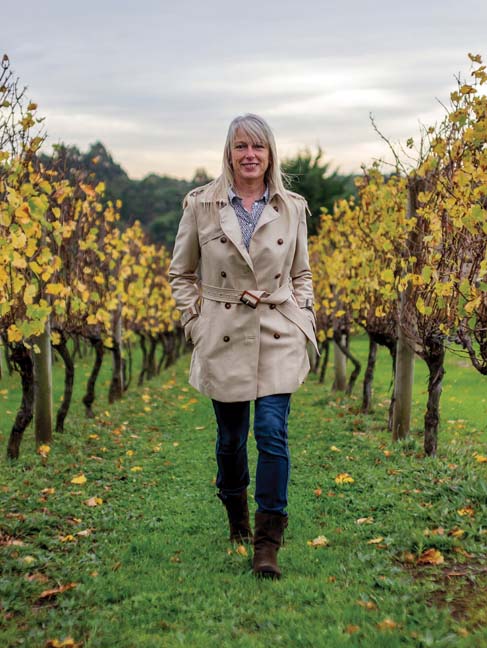 As winemakers and winery owners know all too well, there is nothing better than putting your own label on your wine and that's exactly what Karen did, starting slowly 10 years ago. "Our wonderful winemaker Kathleen Quealy made a small amount of Sangiovese for us to share with friends and family. It gathered momentum five years ago and now we have our own label of Sangiovese and Pinot Gris."
It was these two wines that Karen opened the cellar door with to ease herself into the process. "I wanted a small amount of wines in the cellar door so I could learn as I was going. The following year I introduced two more wines from Stonier with their Chardonnay and Pinot Noir."
Within 18 months of opening the cellar door, Karen says the response has been incredible from visitors and locals alike. "I have had a delightful response since I opened here, letting it evolve in an organic way and it's been wonderful, with people who have stumbled through the gate and just discovered it getting a lovely treat when they walk around the corner and see the view, and then another treat when they taste the wine. People love sitting on the long wooden tables under the trees looking over the vineyards and rolling hills, enjoying a glass of wine and a tasting plate in true alfresco style."
Panton Vineyard is at 11 Shoreham Road, Shoreham.
Phone 0418 551 066. www.pantonvineyard.com.au