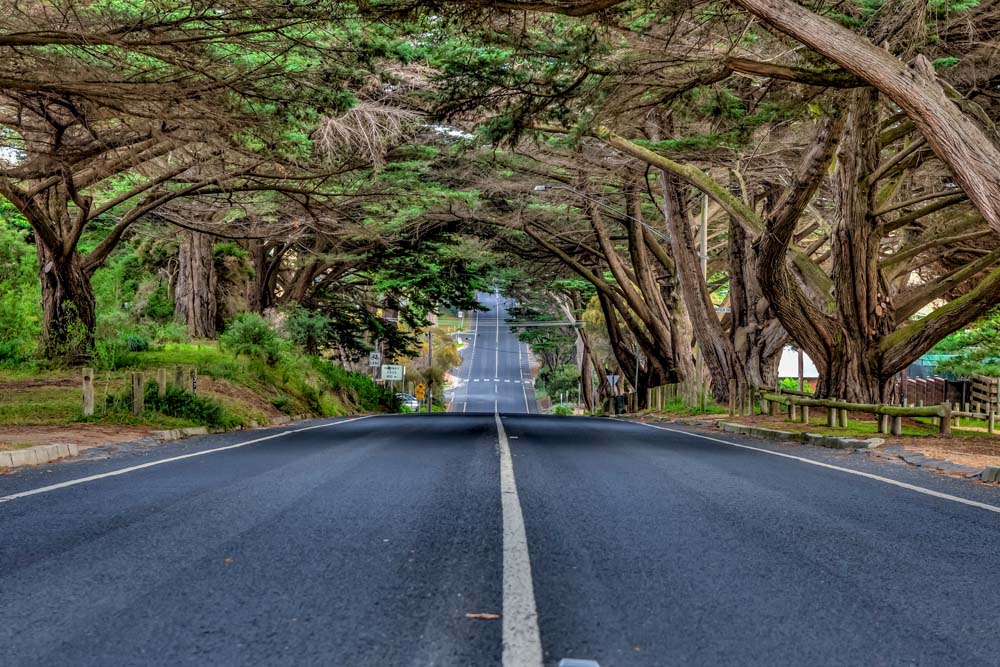 PORTSEA FACTS
Portsea is a township at the most westerly settlement on the Mornington Peninsula and borders Sorrento in the east. Portsea is located on a thin strip of land just 2 kilometres in width, fronting the calm waters of Port Phillip in the north and the rugged surf beaches along Bass Strait in the south. The official population of Portsea is 446 in 2011. The size of Portsea is approximately 4km².
---
The main bay beach fronts Weeroona Bay and includes the Portsea Pier from which golden sandy beaches extend in both directions, lined with a mixture of characteristic English trees and native bush. East of the pier is Point Franklin where a scenic walking track provides elevated views over Shelley Beach to the east and across the bay.
---
The Portsea Surf Beach faces the ocean and is accessible from two main points. At the southern end of Back Beach Road is the Portsea Surf Life Saving Club and scenic views along the coast can be enjoyed from the surrounding pathways which extend down to the beach. Further west, at the end of London Bridge Road, is an access point down to the beach, scenic coastal pathways, lookouts and the rocky archway known as London Bridge.
---
The major landmark in the town centre is the Portsea Hotel which was built in 1927 and extended in later years to include both indoor and outdoor dining and entertaining areas which extend down to the foreshore and overlooking the beach and pier.
---
Portsea has become one of Melbourne's most exclusive places to live, with a number of 19th century mansions perched high on ridges above the coast, intermingled with upmarket dream homes and weekend retreats.
---
At the western edge of Portsea and extending right to the tip of the land is the Point Nepean National Park which features relics Aboriginal settlements and past military fortifications. A quarantine station was built there in 1852 to protect Victoria against disease from people arriving by boat. In 1882, a fort with barracks was established to defend the headlands of Port Phillip against invasion. There are a network of walks throughout the park which allow visitors to explore the remains of military occupation of this area and to enjoy scenic coastal features including pristine beaches, cliffs, reef platforms and turbulent seas.
---
OCS Portsea, an army establishment, was located just outside the town. The historic reserve became famous when Prime Minister of Australia Harold Holt disappeared while swimming inside the facility at Cheviot Beach on 17 December 1967 and was officially presumed dead two days later, although a formal inquest into his death did not take place until 2005.
---
Portsea is named after Portsea Island which is an island incorporated by Portsmouth, England, United Kingdom. Portsmouth is where the first settlers to Australia set sail from.
---
Portsea is considered by many to be the hub of Melbourne's recreational scuba diving activities. No less than four scuba-related shops operate from its otherwise modest main street. Dive boats travel to sites both inside Port Phillip and outside Port Phillip Heads, also known as "The Rip".
---
The Portsea Pier is the home to the spectacular weedy sea dragon, as well as many other fish species, including numerous pufferfish. Boating traffic is frequent, and divers should be careful to avoid main boating routes. Portsea Back Beach is a big attraction in Portsea, due to its great surfing conditions and long stretch of sand. Portsea Surf Life Saving Club patrols the popular surf beach, as patrols are always needed during the summer period given the large waves and strong tides that are often present.
---
Prominent residents include trucking magnate Lindsay Fox, Kate Baillieu and Rupert Murdoch's grandson businessman David Calvert Jones, other well-known residents are Eddie McGuire and Ron Walker.
COFFEE SAFARI
Fresh brewed coffee is a must have for weekends away and Portsea coffee is second to none with great coffee haunts around the town. Here are a few to check out when head down to this beautiful end of the world.
PORTSEA PIER GENERAL STORE AND CAFE
3760 Point Nepean Rd
Relaxed dining on the Portsea Waterfront. gourmet burgers, fish and chips, hand-made pies and pastries, and seasonal produce. Great Service and the best coffee on the peninsula.
---
BAKED IN PORTSEA
145 Hotham Rd
Casual dining setting with relaxed vibe to enjoy good coffee and bakery delights.
---
PORTSEA HOTEL
3746 Point Nepean Road
With sweeping views of Port Phillip Bay, The Heads and Queenscliff, the Portsea Hotel  is great for meals, snacks and desserts with a sensational coffee selection.
WHAT TO DO?
Portsea's location at the tip of the Mornington Peninsula means you can cool off at a safe bay beach and be riding the surf at the ocean beach just minutes later. Slow down after a day out in the water with an evening with friends on the green lawns of the Portsea Pub.

Learn to scuba dive amid sea dragons and rays around Portsea Pier. Glimpse the lifestyles of the rich and famous at Portsea's millionaire mansions, or take the Millionaire's Walk to Sorrento along cliff tops, through landscaped gardens and past private jetties for vantage points of their imposing mansions.

Watch as surfers and iron-men battle it out in summer competitions or build your own skills on the water with a spot of sea kayaking, and explore the fascinating labyrinth of nineteenth century tunnels and fortifications in the Point Nepean National Park that were built to guard Port Phillip heads.