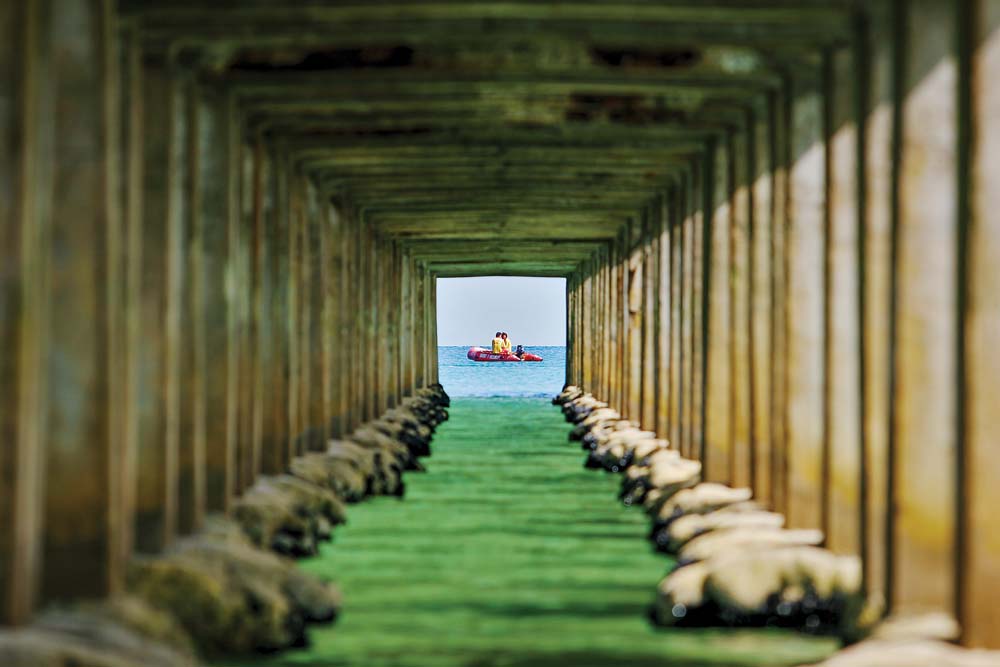 Photos: Yanni
Dromana is a bayside centre, nestled between Safety Beach and McCrae, and situated at the foot of the towering peak of Arthurs Seat, 66 km south of Melbourne. Population in 2011 was 5,126.
DROMANA FACTS
Dromana's commercial centre is concentrated along the coastal boulevard of Point Nepean Road, with Arthurs Seat and its surrounding bushland providing a scenic backdrop to the shops and cafes along this route.
---
Dromana's foreshore reserve lines the coast and consists of grassy picnic areas, shelters, walking tracks and designated camping areas. The calm, sandy beaches provide safe swimming and boating opportunities. Points of interest along the coast include the Dromana Pier and the rocky cutting at Anthony's Nose where a boat ramp is situated.
---
Heronswood is a historic property situated on an elevated 2 hectare allotment on Latrobe Parade, overlooking the bay. The house and surrounding gardens date back to 1871 and are open for visitors to explore and enjoy. The property includes a cafe which serves organic produce from the gardens and fresh food from local growers where possible. There is a retail shop and nursery, with garden workshops held regularly. Heronswood is managed by Diggers Club, Australia's largest garden club, which also looks after the cool climate St Erth Gardens at Blackwood in the Macedon Ranges.
---
Dromana and neighbouring Tuerong to the north, are home to a number of vineyards, some with cellar doors open for wine tasting.
---
It is believed that the name Dromana is of Irish origin and that it came about from the influx of gold prospectors in the late 1830s. There is a Dromana on the tidal section of the Blackwater River, near Cappoquin, County Waterford in Ireland, and this is the most likely origin of the name.
---
In 1841, Hugh Jamieson purchased 5,120 acres (2,070 ha), or eight square miles, of land from the Crown for ₤1 an acre under the terms of the short-lived Special Survey regulations. [2] The purchase included the northern part of the present suburb of Dromana to the east of Safety Beach. The area is known as Jamieson's Special Survey in cadastral surveys.
---
The first subdivision of Crown lands in Dromana occurred in 1854.[3] Dromana Post Office opened on 12 April 1858.[4] The completion of its pier took place in 1872, allowing the shipping of produce to the city markets. In 1881, Dromana was well established as a seaside resort.
---
A major contributor to the development of Dromana was Spencer Jackson. One of his greatest achievements was the facilitation of the construction of a road to the summit of Arthurs Seat in 1929. Dromana's pier was much longer in those days and Dromana shared with Sorrento the ability to accommodate the bay steamers which did much to promote Dromana as a tourist destination. The McKeown and Shaw families ran guest houses for over half a century.
---
Dromana is known for its number of vineyards. More than 22 separate vintners operate within Dromana, as well as several vineyards. The Dromana Drive-in cinema is a popular entertainment spot for locals and holidaymakers alike.
---
The median house price for Dromana is $650,000 and the median rent is $380 per week.
COFFEE SAFARI
Fresh brewed coffee is a must have for weekends away and Dromana is a must visit destination with great coffee haunts around the town. Here are a few to check out when head down to this beautiful seaside township.
LANEWAY ESPRESSO
167 Point Nepean Road
A fun café with great coffee and meals and a great antique shop at the front.
---
DEES KITCHEN IN DROMANA
19 Pier Street
Excellent for coffee and lunch with some tempting cabinet specials of salads and desserts.
---
CAFÉ JETT
197 Point Nepean Road
Great food, great atmosphere, great staff and even better coffee.
---
STYLE PIRATE
345 Point Nepean Road
With an interior nik nak store with quality products, they sell coffee and snacks, right opposite the foreshore.
---
MONKEY BUSINESS
1/277 Point Nepean Road
A modern bistro all about tasty food with a lot of poke, delicious coffee, drinks and wine. Enjoy a casual setting with good vibes overlooking Port Phillip Bay.
WHAT TO DO?
Whether holidaying or living by the bay, there's always something fabulous to do in Dromana. Head down to the beach with its white sands and calm waters for families, and then enjoy a relaxed lunch at one of the many cafes or restaurants. Head up the hill to the wineries or check out the new Arthurs Seat Eagle for a bird's eye view of the peninsula. There's water sports, long walks and plenty of history to check out at the Dromana Historical Society, and don't forget to call in to Heronswood Estate, the home of the Digger's Club.