By DEBRA MAR  Photos YANNI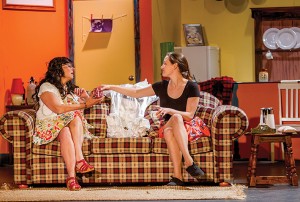 Watching a small group of amateur thespians rehearsing on the set for an upcoming production titled It's Now or Never, the characters exuded a sense of camaraderie harmonised with fun.
That sums up the atmosphere at a Rosebud theatre group, the Southern Peninsula Players (SPP) and it continues off stage too. It's the people behind the scenes who make this quirky, eclectic theatre group tick.
This 'no frills, but plenty of comical spills and thrills' theatre group is run by wonderful, salt-of-the-earth individuals for the 'love of it'.
SPP was formed in 1952 and is one of the oldest, not-for-profit community theatre groups in Victoria. The Rosebud Memorial Hall is home to SPP and was built by the community post WWII. It was donated to the Mornington Peninsula Shire some years later. The building was earmarked for demolition to make way for the Southern Peninsula Aquatic Centre development but the project has been put on hold.
"Humble beginnings with a makeshift stage of 44 gallon drums and trestle tabletops, ceiling lighting and 'bedspread' curtains draped over wire, the actors were ready and excited to perform their first play in 1952 called One Morning Very Early to a full house," wrote John Purves, one of the founding members and Directors of SPP in a historical document.
SPP has experienced a number of successes with brilliant comedies, heart wrenching dramas and many 'who done its'. It has faced lean years recently trying to find people to cast, explained Secretary and custodian of the theatre's records, Sally Montgomery.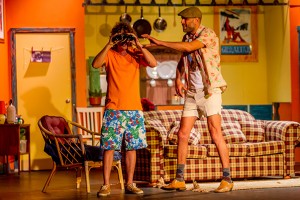 Sally moved from Melbourne to the Peninsula in 1997. She started her acting experience in High School plays then joined the Monash Drama Group and eventually taught drama.
Asked why she joined SPP, she replied, "I answered an ad in the local paper looking for players for one act plays and I said, 'I'll be in that'." These days she doesn't do much production work or acting but is happy to be involved. "It's a real joy," she said.
When it was suggested Shakespeare might be a good choice to introduce as a production option, Sally laughed, "I don't think we're quite ready for Shakespeare!"
"There are many characters drawn to this theatre group," Sally stated. "It varies hugely from the egotistical, opinionated individuals, to those who are generally concerned and happy people."
Other people who make up the colourful fabric of SPP is President John Jenkins who is an actor and does TV work, Vice-President John Staunton (JS), his wife Beccy who is Treasurer, their son the stage 'electrician' and committee members. JS comes from a long line which has been part of SPP for three generations. JS builds and paints stage sets for productions that are held in May and November.
JS said, "People don't realise when building a set you are working with everyone – the crew, the director and the cast- to produce a set that's going to work for everyone." With a belly laugh he said, "A set fell down once during a live act. It's all part of the fun."
JS continued, "The funniest thing to watch is when actors forget their lines and ad-lib. Some don't even follow the script. They say lines from the Third Act when they are in the First Act. Others improvise. Sometimes actor's lines are pinned to the back of couches, on tables and around the set. We put on the same play for seven nights and every night you can get a different play! There is a lot of backstage shenanigans but everyone supports each other and that's where camaraderie and friendship comes in."
You can learn a lot from being around a theatre group. It builds confidence, sharpens acting skills and promotes directorship. JS said, "Social skills you develop from being involved are really impressive and the different people you meet and work with can range in age from 18 to 80."
Beccy, who married in to the Staunton family and by default, 'married' in to the SPP Theatre Group, spent 25 years on the stage locally, performing mainly dance and drama. Describing herself as fun, interesting and loud, she said "We need more memberships, younger people and new blood."
If you want to find out more about the wonderful world of theatre, phone Sally on 0458 082 224.
www.spptheatre.com
First published in Peninsula Essence – Autumn 2016