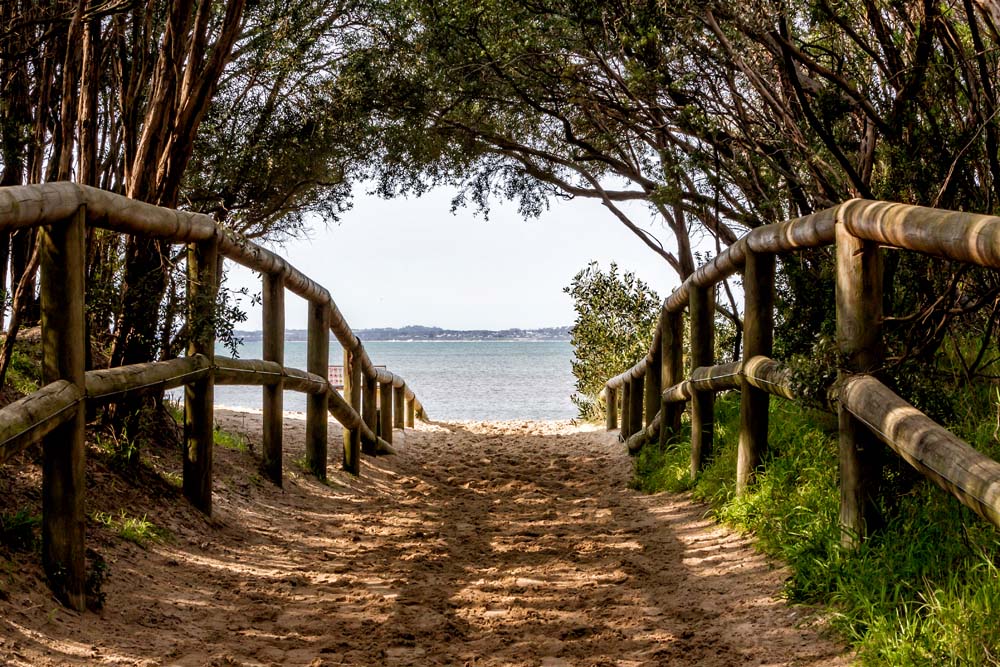 Balnarring is situated on the Mornington Peninsula, around 10 kilometres south-west of the major centre of Hastings and fronting Western Port. It is 69 km from Melbourne.
BALNARRING FACTS
Median house price for Balnarring is $730,000 and median rent is $450 per week.
---
The population of Balnarring area in 2016 is 4789 (including Balnarring, Merricks, and Somers).
---
Balnarring's shopping village is located two kilometres inland and includes a supermarket and a good selection of speciality shops. The shopping village is built around a large central car park which is surrounded by trees and gardens.
---
The Balbirooroo Community Wetlands border the commercial centre, and include a lagoon and walking trails.
---
Balnarring Beach, also known as Tulum Beach, features sweeping crescents of coastline and a foreshore reserve which offers safe swimming along sandy stretches of the coast. Racehorses are trained on the beach early in the morning six days a week.
---
Balnarring Beach holds the award for the "Cleanest Beach in Victoria" from the Keep Australia Beautiful committee.
---
Merricks Creek joins Western Port at Balnarring, forming a narrow peninsula of land which is traversed by walking paths and footbridges around the shallow creek.
---
One of the most scenic parts of Balnarring Beach is around Cliff Road which is situated on a bushy headland. A walking track winds its way down the cliff face to the sandy beach below, offering spectacular views along the coast.
---
Just to the east of Balnarring on the coast in neighbouring Somers are the Coolart Wetlands. This nature reserve surrounds the historical Coolart Homestead which was built in 1895, and includes a lagoon where thousands of Australian white ibis nest every year, plus attractive picnic and BBQ areas.
---
Balnarring is Aboriginal meaning "camp in open places".
---
In the summer months, Balnarring Beach comes alive with holiday makers. It first became a holiday destination back in 1910 for day trippers from Melbourne. Back then, there were many beach stores and kiosks. Today there is one general store at the beach.
COFFEE SAFARI
Fresh brewed coffee is a must have for weekends away and Balnarring is a must visit destination with great coffee haunts around the town. Here are a few to check out when head down to this beautiful seaside township.
FONTALINA
Shop 8, Tulum Village
2 Russell Street
Amazing coffee with best pastries and pizza if you feel like something heavier. Relaxed atmosphere where the whole family can feel comfortable.
---
VILLAGE PEOPLE BALNARRING
Balnarring Village Shopping Centre
3050 Frankston-Flinders Road
Great spot to chill out for breakfast with excellent coffee and eggs and free Wi-Fi as well.
---
THE HERITAGE
3059 Frankston-Flinders Road
The Heritage provides tasty meals made from local produce in front of open fires or on sunny decks, or just relax with a hot coffee and delicious cake from the extensive menu.
WHAT TO DO?
Whether it's strolling along the award winning Balnarring beach, checking out the wetlands, or heading to one of a wide variety of restaurants, Balnarring has something for everybody. 
In the summer months, the beachside town is alive with holiday makers. In the cooler months, it's a charming township with markets, homemade goods and some of the best international cuisine in the area.
Check out the original Harley Club building or wine taste at the variety of boutique wineries.