By Keith Platt
PT Hirschfield reckons there are two ways to go after being diagnosed with a terminal illness: up or down.
"You can curl into a ball and wait to die or you can see it as a positive and know you have a limited amount of time to achieve something for yourself."
Ironically, Hirschfield's positive response involves going underwater to where she can feel weightless, enmeshed with the lives of creatures that cannot live on land.
A diving buddy once told her that time spent underwater isn't counted in our allotted lifetime on land. It's an idea Hirschfield was quick to adopt and puts into practice as often as she can.
As well as close encounters of the submerged kind Hirschfield – who has adopted the name PT after her pink air tanks – has also taken it upon herself to wage a campaign of protection for a group of fish classed as smooth rays. The most recognisable members of this family are the banjo shark and stingray.
Now in her 40s, Hirschfield has no qualms talking about her life expectancy, "bucket list" items yet to be achieved and her campaign to stamp out the senseless killing of sea creatures, more specifically, a group of fish classed as smooth rays.
She has been steadily ticking off her underwater bucket list since being diagnosed with endometrial cancer seven years ago.
Once consumed by her career, she now believes "100 per cent" that her drive to succeed led to her cancer.
Hirschfield, a vegan for about 24 years who once went through a vegetarian phase "because of a liking for tasty cheese", has no problems with anglers catching fish to eat.
Her husband, auditorium manager Adrian, fishes mainly for snapper in Western Port.
The couple moved to Safety Beach from Narre Warren North last December after seven years driving to the peninsula to go diving.
Hirschfield was a teacher for 22 years ("teaching persuasive writing – in my next life I'll be a lobbyist") before moving on to being a senior manager. She holds a masters in business administration degree.
In 2010 she had a "radical hysterectomy" after being diagnosed with endometrial cancer, and in 2013 spent 160 days "in and out of hospitals". One day in 2014 she dressed for work as normal in a suit and ended up writhing in pain on the floor in a GP's office – one week after getting the all-clear from her oncologist.
A scan showed the reason for her pain – a grapefruit-sized tumour. Tests followed and Hirschfield was told her cancer was terminal and that her life expectancy was limited.
"The tumour was too big to remove and palliative radiation was used to shrink it down to the size of a golf ball. That was the only time I needed to see a psychologist. I saw her for six months and we talked about work and dealing with [palliative radiation] which is not a
cure, but just prolongs life. They were trying to shrink it to take pressure off my other organs."
The therapy sessions ended "once work was taken out of the equation". "The water was a great motivation for me to get out and onto my feet. Diving is really therapeutic," Hirschfield says. While nowhere near being a cure, diving is her salvation; raising awareness of the cruelty being needlessly inflicted on the rays is her purpose. "I had always been career driven and was at a loss; a buddy told me to dive every day," Hirschfield says.
"My first dive was in 2000 on the Great Barrier Reef. It was a one-off; I had no idea you could dive in Port Phillip and it was 10 years later before I first dived in the bay."
Her cancer diagnosis followed a diving holiday in Vanuatu "but I had been feeling sick for many months".
Hirschfield says diving is meditative, spending hours under water taking photographs or making videos.
"I've been told that time under water is time out from our allotted time [on land], so I'm all for being there as much as possible. I can get two-to-four hours out of a tank of air.
However, her regular dives led to the sad realisation that anglers often killed rays. They saw them as nuisance bait-takers. Few people find their flesh tasty, although she's been told some cut off the "wings" of larger rays to use as shark bait. At other times they are stamped into meat and sold as sea scallops.
Hirschfield received wide publicity in April after sending the media photographs of a mutilated ray lying on the seabed below Rye pier. The 250-300 kilogram "resident" ray had often provided divers with a majestic sight as it flexed its wings to propel itself through the water. Hirschfield's photographs showed a badly butchered mass of rotting flesh. Within days they had gone international and 26,000 signatures were added to an online petition calling on authorities to protect the rays and ban them being caught from piers and jetties in Port Phillip and Western Port. Despite the reaction, Hirschfield was shocked to hear that another four dead fiddler rays – commonly known as banjo sharks – had been found dead under Rye pier on Wednesday 3 May.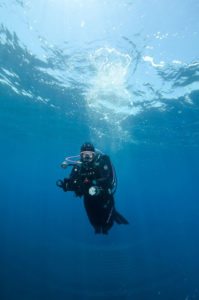 Each one appeared to have been killed by "a cranial split". She categorises the fish as "unwanted catch", killed to prevent them from "wasting bait".
"At least one of the animals was still alive after sustaining this injury, as caught on disturbing video by local scuba diving instructor Jane Bowman," Hirschfield says.
"It is an offence against Fisheries Victoria 2009, Regulation 101 to not return fish to water without injury or damage.
"Divers who entered the water the following morning to euthanise the animal found it already dead, along with a fifth banjo that had been knifed in the head."
Hirschfield, an organiser of the Melbourne-based Project Banjo Action Group, said the "slaughter of these rays was particularly brutal … but not an isolated event".
"This goes beyond the illegal slaughter of unwanted catch. Often it's a matter of animal cruelty. Increasingly we're finding rays that are thrown back in the water, cut in half, mutilated and maimed but still alive." Injuries sustained by the rays included having their mouths torn out to retrieve fishing hooks.
Representatives of the group have met with Fisheries Victoriaexecutive director Travis Dowling and director of education and enforcement Ian Parks to discuss having signs on piers telling anglers about fish protection laws, fines and "potential regulatory reforms".
Hirschfield says she has developed a way of questioning without accusing anglers she comes across in car parks near piers.
"I ask them if they've seen anyone killing banjo sharks or rays that they catch on the piers and urge them to tell the offenders that it's against the law.
"I did ask one man if he killed them and he told me he had after fishing for hours and being frustrated by not catching the type of fish he was after, so he took it out on a banjo shark."
Although they haven't turned physical, Hirschfield says she knows of arguments between anglers and those wanting to save the rays. She says it is not uncommon for divers to see between four and six dead rays at the fishing end of the piers, with one diver reporting 18 dead rays as well as a less common eagle ray.
She said the killing of rays in Hamelin Bay, Western Australia, was banned in 2015 "when a public outcry erupted after a much-loved resident smooth ray was killed before horrified onlookers".
"In my ideal world, I wouldn't have to lobby for better regulations to safeguard marine animals against cruelty," Hirschfield says.
"While I would love to spend every minute of every day quietly taking pictures of beautiful sea creatures, those that are being treated so poorly desperately need to be represented by human voices. "As much as I value privacy and anonymity, I've joined my voice, time and energy with many others who are willing to work towards better outcomes for the beautiful rays of Port Phillip. There comes a point where we can no longer remain silent and, for me, this is it."
---
The deliberate harming of non-target fish species – including rays, toadfish and native sea stars – can be reported to Fisheries Victoria on 13 3474 (13FISH).