Friday 25th May 2018
By Brodie Cowburn
With either 30 kilometres or 60 kilometres of on foot hiking across the Mornington Peninsula for participants to choose from, the annual Melbourne Coastrek is certainly not for the faint of heart.
The Coastrek event, run annually by the Wild Women on Top organisation, will see teams of four push each other to their limits, as they trek across the picturesque peninsula to raise funds and awareness for the Fred Hollows Foundation.
"People can register as volunteers or as part of a team of four. Each team must also have at least two women, and typically 80 percent of participants are female. We encourage all men to come down and try it out too," said Wild Women on Top spokeswoman Elaine Kindred about the event.
"There are three key factors that make it so successful. You're committing to a team, so it really gives you motivation when you're meeting someone to do training, you're with your friends so you can chat when you're doing it. You're also getting out in nature, so your fitness will benefit. Finally, you're doing something good; there's a purpose behind what you're doing and you'll be raising lots of money."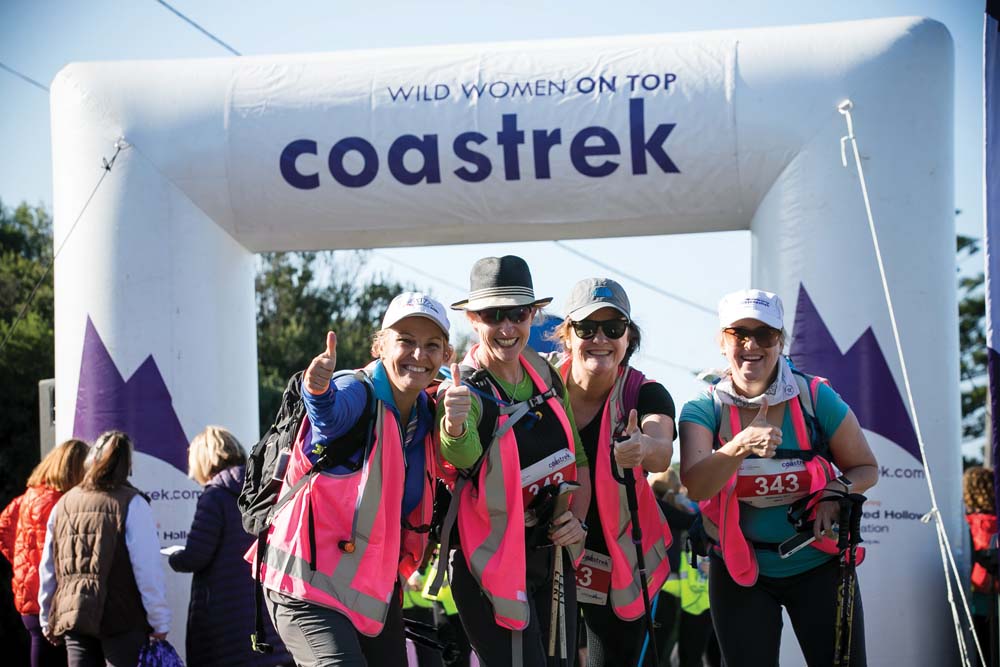 The 60 kilometre trek will take adventurous souls across stunning trails and bays from Cape Schanck to Point Nepean, with the 30 kilometre trek starting from Koonya Beach.
"It's the most stunning part of the world. It's my favourite of all the Coastrek events and I absolutely love it. Coastrek is all about the view and the experience, and we just fell in love with the Mornington Peninsula. It's beautiful," said Elaine.
"On that walk you get Cape Schanck, the beaches, you walk through bushland to get to the bayside. It's serene and it's a real mix of stunning views."
Coastrek was originally started as a way to keep women healthy in terms of their mental health and fitness levels, and has since spiralled into a much bigger spectacle. The trek now provides huge support to the Fred Hollows Foundation, an organisation that Elaine says does incredibly important work.
"Diana Westaway is our CEO. She originally started taking walking groups of women from her children's primary school and then it gradually grew from there. They'd climbed a few mountains and she decided that she loved being out in nature, and it was helping women with their mental health and fitness," she said.
"They were trying to come up with an idea of how to keep people fit over the holidays, and it was decided to host the first Coastrek. At first there were about 200 people at the event, and now we get 4,000 trekkers. It's grown massively. In the past ten years we've raised over $20,000,000 for The Fred Hollows Foundation.
"When the first Coastrek event was held, it was decided they should raise money for Fred Hollows to give people another purpose for doing it. We love the Fred Hollows Foundation, because over the years we've learned that many women and young girls are affected by blindness in their families, and we feel really connected through that."
Coastrek has been running annually in Sydney for about a decade, and has found great success in the last couple of years by expanding their trekking expeditions all the way to the peninsula. Coastrek events have been held on the Mornington Peninsula since 2016. In addition to the massive amount they've raised for the Fred Hollows Foundation, they will now also be partnering with Beyond Blue to raise crucial funds towards the cause of mental health.
The event is put together by the Wild Women on Top organisation, who in addition to their events in Sydney and Melbourne, have also put together Coastrek events on the Sunshine Coast, and most recently in Adelaide.
"This will be our tenth year running Sydney Coastrek, and our Melbourne events have been up and running for a couple of years. We do one Melbourne Coastrek a year each May, which always follows the same route on the peninsula. A 12 week training plan will be part of signing up, and it's all going to be great," said Elaine.
"We're hoping to raise 1.8 million dollars from the Melbourne event this year."
---
Both of the 30 and 60 kilometre treks across the peninsula this year will take place on 25 May.
Registration for the 30 kilometre trek will close on 13 April. Registration for the 60 kilometre has already been filled to capacity.
To donate, get involved, or find out more information phone 02 8039 3580 or visit the website www.melbourne.coastrek.com.au