Raising baby chicks is a great experience for kids, parents and grandparents alike. As the chicks grow they transition through a number of different cute and fluffy stages before becoming fully mature, laying hens.
Owners of Talking Hens Giuliana and Jason have always been interested in growing their hens from day-old chicks and finally, have the opportunity to do it. Giuliana's father, Agostino, was a poultry farmer and always raised his own baby chicks, which she loved watching when she was a child. "It was amazing to see all those little, fluffy chicks grow into laying hens and the weekly changes in feather growth, body size and confidence as they quickly grew," recalls Giuliana.
During her time amongst the chicks, she learned that there are important things to understand in order to help them grow. Firstly, a heat lamp is needed to provide them with constant 30-degree warmth for the first few weeks of their life as they can't regulate their own body temperature when young. They also need a sturdy, draft-free box or container to live in with a dry layer of wood shavings for insulation.
Food and water is also vitally important, so good access to the correct water drinker and feeder is needed. They don't need much food but it must be tailor-made for them to provide all of the nutrients needed.
Talking Hens receive small flocks of chicks regularly with the next flock arriving in November 2020. They will be day old Hy-Line Brown chicks and guaranteed girls.
You can make an appointment to visit the farm on Friday to Monday to purchase the chicks. We have all the equipment and feed needed to keep them happy and healthy and can answer any questions you may have as they grow.
p. 0406 691 231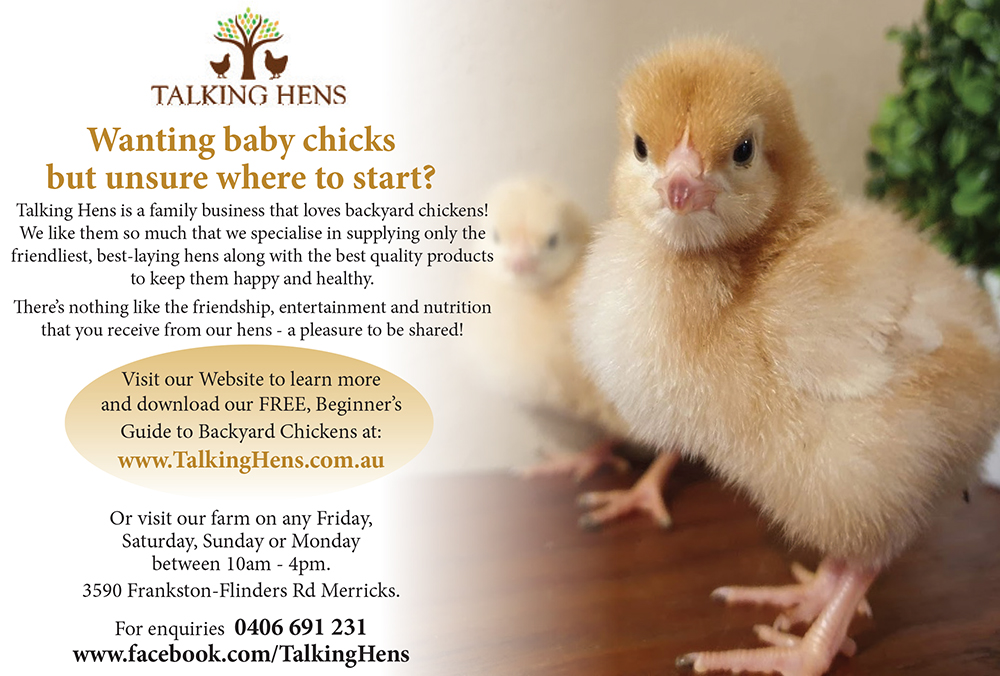 Peninsula Essence, Your Home & Garden Feature – October 2020