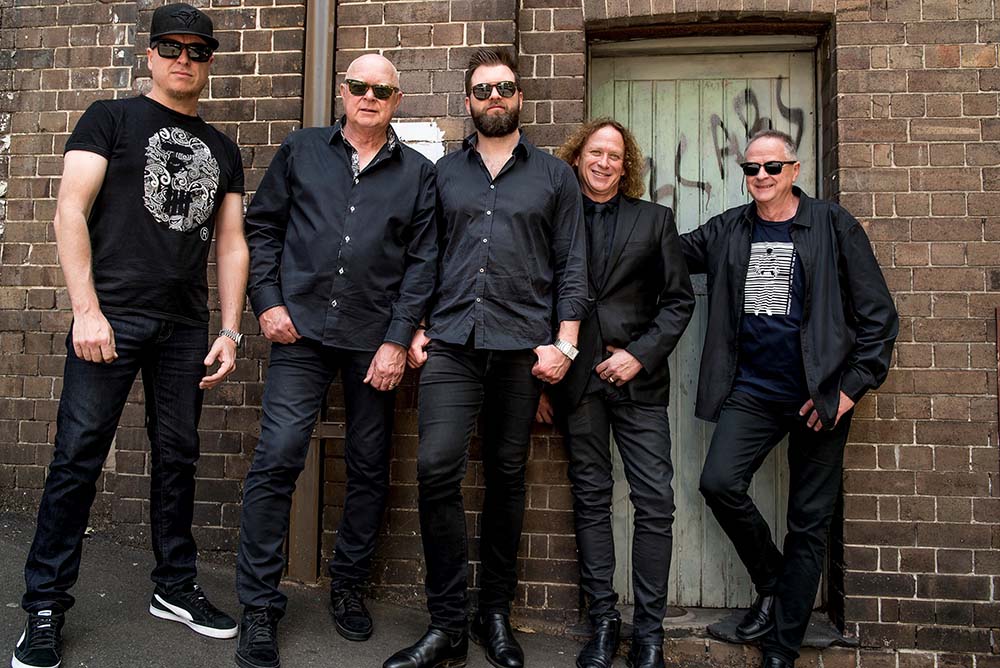 Saturday July 14 2018
By Brodie Cowburn
Legendary rock band The Angels, who have sold out concerts around the world for over forty years, are set to stop through Chelsea on their latest tour to celebrate four decades since the release of their album 'Face to Face'.
The ARIA Hall of Fame band is now led by Screaming Jets front man Dave Gleeson, who joined up with the iconic band in 2011. He says the tour will feature some of the groups's greatest hits, and will include every track from the Face to Face album, which first hit record stores in 1978.
"Performing with the band has been unreal. The songs we're playing mean so much to our fans, and they're timeless. I really enjoy belting them out every night and keeping the legacy alive. I love playing songs like Shadow Boxer, After the Rain, Am I Ever Gonna See Your Face Again. It's a blast to play those with the boys," Gleeson said.
"The 40 year milestone of this album was the perfect reason to head out on tour; to be able to still play it is a great opportunity. We'll be playing the album from start to finish, just like the days when the fans put their cassette on."
Gleeson has been a lifelong fan of The Angels, and he said he is delighted to have the chance to perform with them. Now having spent over half a decade as lead vocalist of the band, he says it's surreal to be able to perform this anniversary show alongside his heroes.
"I shared a bedroom with my two older brothers who dictated the playlist. One of them was a mad Angels fan; that was when they were constantly touring around the country. I heard him come home from concerts so many times talking about how awesome it was. So I always had this romantic image of The Angels, and when I saw them for the first time in '85 I was blown away. They were on fire and I've loved them ever since," he said.
"John and Rick Brewster are humble guys, they've been doing this for over 40 years, and they're stoked to still be out there touring. We pull big crowds wherever we go and there's still a real energy in the band. You need that energy singing Angels' songs, and it comes from us new guys up there with the guys who started the band, playing great music, and having a great time together."
Gleeson, who has also been front man of the Screaming Jets for close to 30 years, was first tapped on the shoulder to join up with The Angels by founding members Rick and John Brewster. Since then, he's been performing the band's greatest hits alongside his bandmates all across the country.
"I first met up with John and Rick Brewster when The Angels were off the road and those two were just out there together as the Brewster Brothers. I met them at a gig after they'd parted ways with Doc, and John asked me what Angels songs I knew. I told him I knew all of them because I'm a mad fan. So I got up and did a few songs and a week later John rang up and asked if I'd go into the studios to do some demos, and it grew from there. Before we knew it we were out on the road and now we've done nearly 500 gigs together," Gleeson said.
"Our first tour around the country with the Screaming Jets was supporting The Angels, so there's a lot of history there. To be going out to do the 40th anniversary tour of Face to Face is surreal.
I was ten when that album came out! Now I get to get up there and sing these songs and do it with the energy they've always been performed with."
Gleeson himself is a veteran performer of the Chelsea Heights Hotel, and he said he is so excited to return with The Angels.
"We've played down on the peninsula many times; we've played at the Mornington Racecourse probably three or four times over the last five years. We love it down there and I play the Chelsea Heights Hotel all the time, either with the Screaming Jets or The Angels. It's always packed there; what's not to love about that," he said.
Gleeson said the band has been busy off the stage too, and is currently hard at work in the studio on new material.
"We've just recently re-recorded the Face to Face album to be a companion to the remaster of the original album. We've got another album ready to go, that will probably happen next year, and that'll be the third one I've done with the boys. I'm stoked we've been able to continue recording and continue working. It's been awesome," he said.
---
The Angels are set to play at the Chelsea Heights Hotel on July 14.
First published in Peninsula Essence – July 2018