By

Tyler Wright

Photos

Yanni & Supplied
Sheila Martland is well versed in the world of collecting. After all, she has been in the business for more than 40 years and owns one of the largest spaces dedicated to antiques and old wares.
What started as a hobby of her late husband, an interest inherited from his own father, eventually grew into their business: Tyabb Packing House Antiques.
Mrs Martland called antique collecting a "disease". It's infectious.
"Once you've got two of something and then you think 'oh, I'll get three' and so on," she said.
'The Shed' has a steady flow of customers from 11:30am on a Thursday. "This isn't busy," Sheila confirms. "The weekends are much busier."
In 1968, The Martlands packed their bags and moved to Australia from their home in England. With four kids in tow, the change proved challenging.
"We had to sort of knuckle down and undergo a complete change of lifestyle."
It was when they met the Bradburys and joined to create the 'Moorooduc Antiques and Old Wares Market' that selling memorabilia and second-hand goods became a source of income. Months later, the couple were left to handle the business by themselves.
"It was a real pain, because it was a really dilapidated old building," Mrs Martland said.
After 13 years in Moorooduc, they took the plunge and purchased a property right next to a railway line in Tyabb – where the business remains.
When you enter The Packing House, converted from what once was a storage space for apples and pears grown on the Peninsula, you are met with diversity. On your left – a jeweller and antique beds. On your right – thousands of books spanning from travel to religion. The space is designed so each separate chamber flows into the other, and you end up back at the start after doing a full circuit.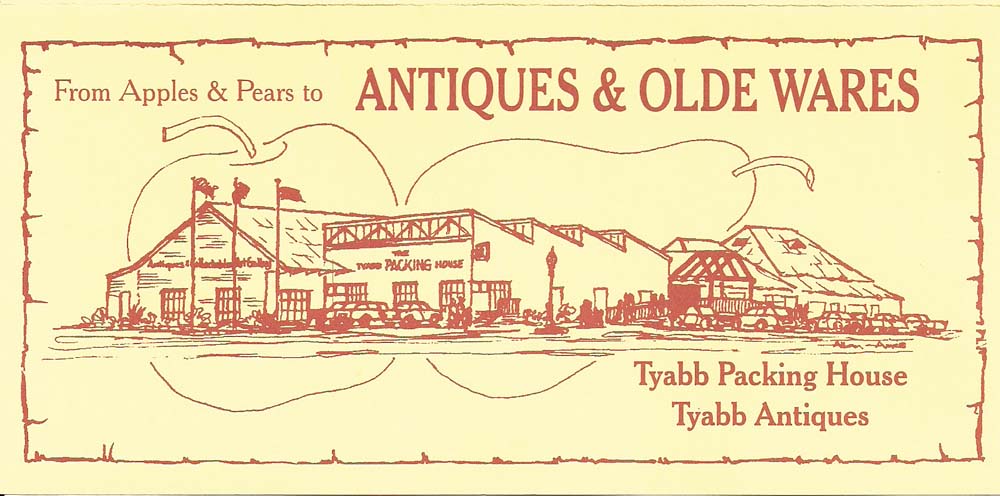 Sheila said each room was leased to different orchardists in the area before it became a hardware co-op and then they took over in 1993. Each chamber is still marked with the name of a type of apple or pear – Jonathan and Democrat among the list of fruits.
"We started off strictly keeping the names, but it's sort of dwindled a bit over the years.
"That's why we've left all the pipework all over the place and some of the doors, and we've tried to keep some of the original things."
While there are salutes to the history of the site, transforming the large space was not all peaches and cream. No emergency exits and unsafe wiring were some of the problems the couple faced. The pair even thought to themselves at one point – "What have we done?"
"It was horrific. I often look back and think today it must be so hard for anybody to start a business." But she goes on to say that they "got there" in the end.
The antiques shed is now home to more than 20 dealers, many with decades of experience. Not only this, but their friendliness creates a warm, chatty atmosphere as you get lost in browsing anything from movie posters to china. The main complex is joined by a separate group of dealerships called 'The Village,' home to artisans and creative specialists.
"We run it differently to a lot of places," Sheila said. "Here, [storeholders] have to be in attendance, each one's got their own 'shop', and they have to look after it."
"We've always kept a high standard."
The key to being open after so many years lies in their "mixed bag of tricks" and individual quirks. This is what, Sheila said, keeps it as interesting as possible.
After recently re-opening following a six-month closure because of the pandemic, the dealers have managed to return.
"It's strange, you know. We came in on the Thursday and Friday to clean everything and opened on the Saturday, and in a couple of days it was just like it used to be."
"We're just hoping that we'll carry on; we'll just see what happens in the next couple of months," she added.
The plan moving forward?
To wait until Easter before starting anything new. Times are just too unpredictable.
---
Tyabb Packing House Antiques is located on 14 Mornington-Tyabb Road, Tyabb, and open Thursday-Sunday, 10am-5pm.