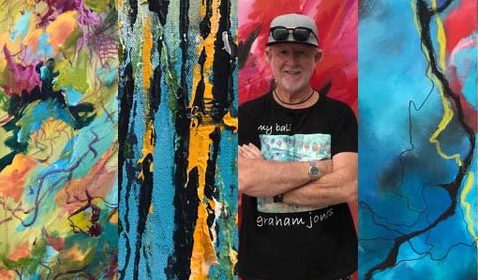 This month Nissarana Galleries at 211 Main Street Mornington is hosting two major solo exhibitions by two of Melbourne's most talented artists. The amazing Zoe Ellenberg exhibition of exuberant spell-binding paintings and sculpture continues until the 11th August followed by the Graham Jones abstract expressionist exhibition with the opening event on Saturday 24th August 2pm – 5pm.
Much of Graham Jones' life has been consumed with some sort of artistic venture covering the genres of music, writing and design where he forged successful careers in all three areas. Since 1988 he is probably best known throughout the Mornington Peninsula for his award-winning home design company. 
Graham chose painting as a full time career in 2015, after a break of 50 years since he won the school art prize at St. Bede's College Mentone. With immense energy and robust work ethic, Graham has completed over 500 acrylic works on canvas and paper in just four years, many being held in collections in the USA, France, Hungary, Netherlands, Indonesia and the United Arab Emirates as well as Australia.
'River Deep – Mountain High' is a fantasy travelogue of expressionist painting sending us on a journey of inquiry, where ethereal landscapes are transposed between the real and abstraction. An avid world traveler and storyteller, Jones portrays his subconscious into the visual dimension utilising a playful colour palette intended to connect with our senses. With his rather unique, quintessential style, although still in evolution, Graham has gained subjective recognition throughout the art world and the many admirers of his work.
The exhibitions dates are:
Zoe Ellenberg
19th  July – 11th August
Graham Jones
23rd August – 15th September
NISSARANA GALLERIES
Open Wed – Sun, 10am – 5pm
Mon – Tues 10am – 4pm or after hours by appointment

Ground floor, 211 Main St, Mornington 
P: 5976 8877
M: 0474 496 222
info@ngmornington.com.au