All Olieve & Olie wants for Christmas is a jolly community where Santa sacks are filled with locally made products and our nearest and dearest are delighted to receive gifts from small businesses.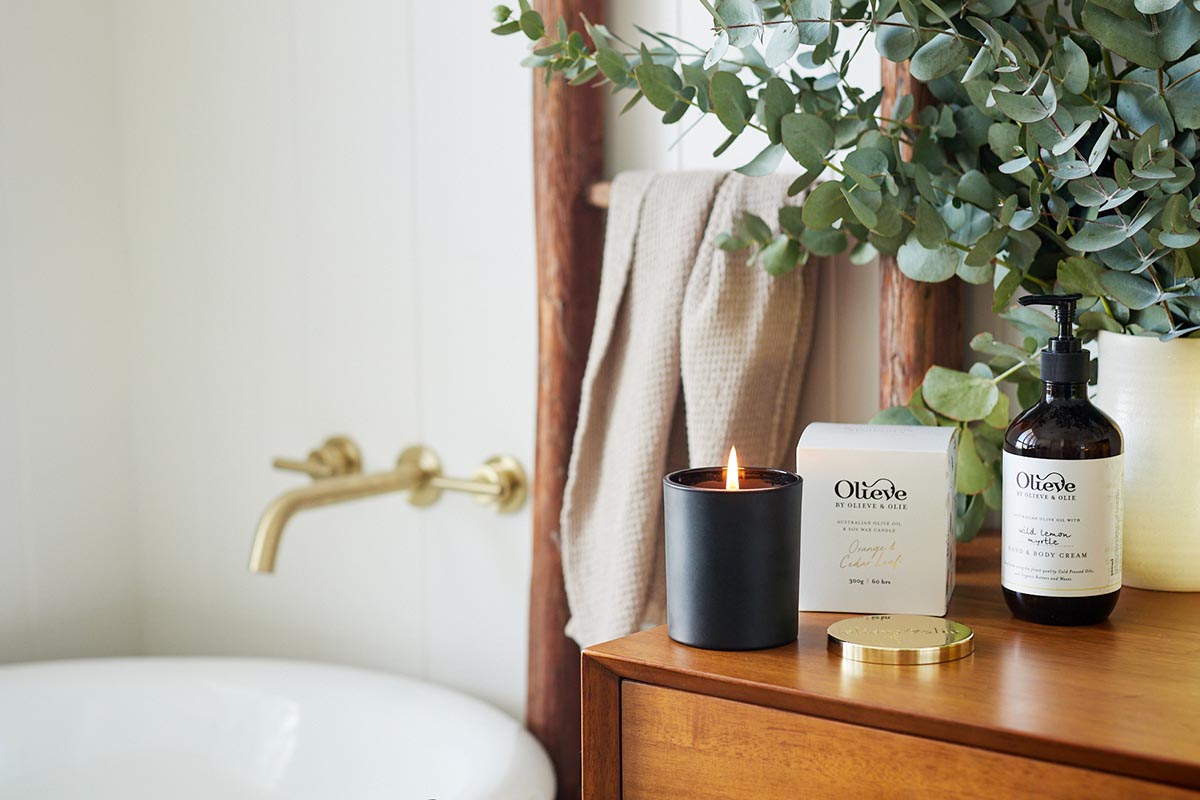 Where they can, Olieve & Olie source their ingredients directly from the producers to ensure that they're natural, chemical-free and harvested sustainably while also actively supporting our local farmers and producers. They also dream of a Christmas where that warm and fuzzy feeling that comes with gifting isn't overcome by the stress of searching for that perfect present. They've made gifting easy with their extensive range of natural skin care and candles, with a plethora of choices for the whole family to indulge in, including shaving gel, sanitiser and more from their Olie range that is just right for the hard-to-buy-for man.
Tick off your shopping list in one hit when you stop by their factory shop front. Start by perusing their luxe range of soaps including Soap-on-a-Rope, Limited Edition Soap with splashes of gold, or Handmade Soap Bars that are available singularly or in a 3-pack. Olieve & Olie hand creates indulgent and creamy soap that is superb for everyday use. As a natural soap, it's great used as a cleanser, even on the face. Thanks to the extra virgin olive oil and essential oils, their soaps will not strip the oil that occurs naturally on your skin. Santa's tip is to get your hands on the Limited Edition Soap before it runs out, as they've only completed a limited run. This one comes packaged in a luxe matte black box with stylish drawings and gold detailing.
With summer here, wash off the sunscreen with a wash like no other. Olieve & Olie's Hand & Body Wash will leave your skin feeling clean and soft. It provides a deep cleansing effect whilst protecting and nourishing your skin. It's suitable for all skin types, including sensitive skin so it's perfect to place in the shower, by the bath or at the sink for the whole family to use. Scented with only essential oils, their wash provides therapeutic benefits including natural anti-bacterial and anti-fungal properties. For the ultimate gift, pick up one of their Wash & Cream Twin Sets that comes in a stunning box with gold swirls or just choose a wash from four lush scents and one fragrance free option.
Christmas spirit won't be in short supply with their new range of Christmas Candles. Choose from Pine Needle & Eucalyptus, Plum & Juniper Berry, and Orange & Cedar Leaf. These handmade candles are created using natural soy wax, high-quality fragrances and lead-free cotton wicks that have a 60-hour burn time. While these scents are beautiful all year round, their candle range also includes five other delicious scents, with something for everyone.
Ones dear to your will relish in taking some time to themselves to give their skin a much needed scrub. An invigorating Coffee Scrub in Chai or Latte will awaken the skin and soul with its smooth and creamy texture. While the combination of artesian salt and olive oil creates a superb exfoliation that can be found in the striking Salt and Sugar Scrub Pouch.
Their skin will be renewed and glowing as the olive oil contains antioxidants that provide anti-aging benefits. For those after a vigorous scrub, the Salt Scrub Jar is preferable as it contains coarse salt. Salt is the hero as it stimulates and lifts dead skin cells.
And just like that, you're Christmas shopping is complete. Draw a hot bath and indulge with the treats that you've picked up for yourself along the way – go on, you deserve it. Their factory shopfront is open Monday to Friday from 9am-4pm or Saturday 10am-2pm, and closed Sundays and public holidays. You can shop online or find your nearest stockist of Olieve & Olie products at olieveandolie.com.au
Please join Olieve & Olie in making this silly season a jolly Olie Christmas!
---
OLIEVE & OLIE
A: Factory 7/16-18 Henry Wilson Drive, Rosebud
P: 03 5982 0992
FB: @olieveandolie
Insta: @olieveandolie