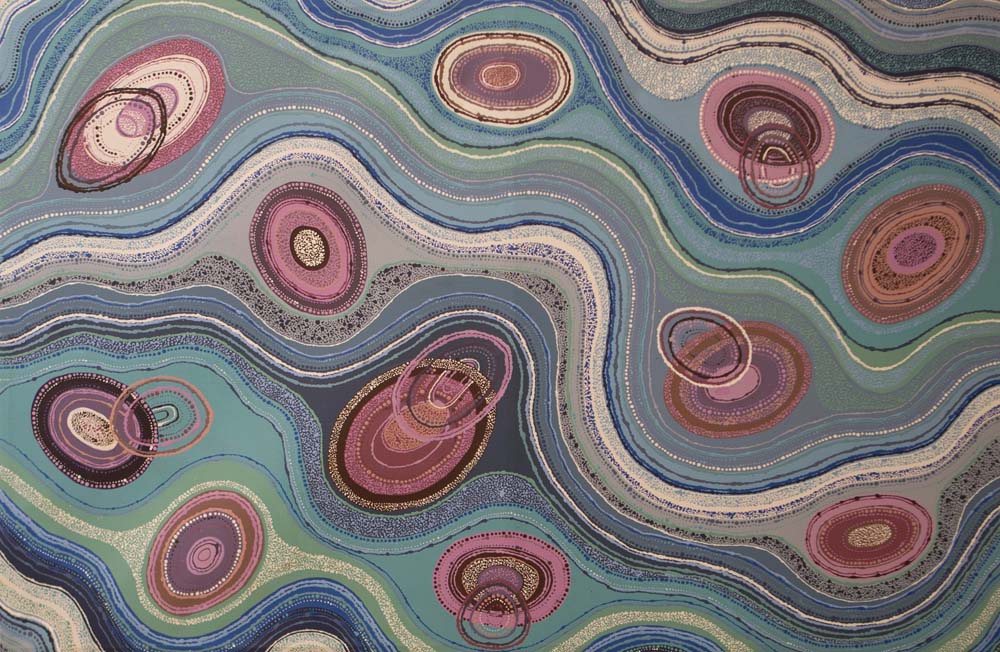 Fresh paintings and sculptures have arrived to join the existing wide range of outstanding art for the Summer Collector's Show at Everywhen Artspace.
Featuring works from as far afield as Far North Queensland, the APY Lands, Utopia, the Pilbara, the Kimberley, Arnhem Land and Victoria, the exhibition showcases a great variety of styles and media.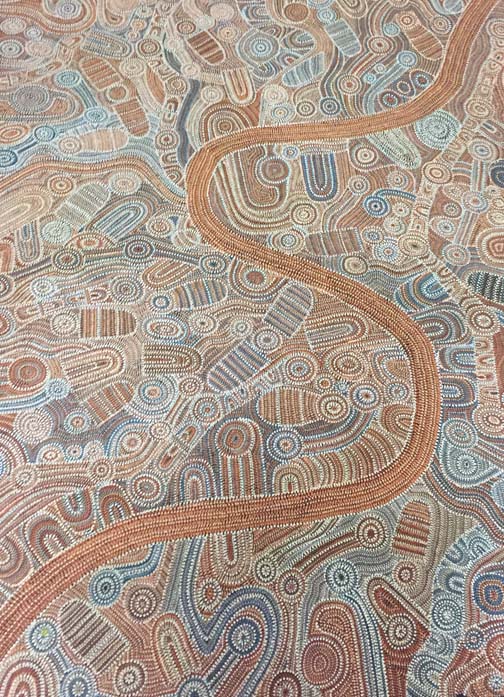 New works including paintings by the talented younger generation artist Michelle Lewis from Ernabella who says of her softly fluid works that relate the Honey Ant dreaming.
"I am painting the landscape from above, as you might see it from an airplane or as a bird looking down. It is beautiful country both from on the ground and up above…. I think of how the tjala (honeyants) tunnel though the sandy soil as well as about the waterholes, the assemblages of trees and shrubs and the country that is "quiet" (empty)."
Equally evocative are the finely textured ochre memorial poles and Mimih carvings from Arnhem Land and a range of paintings from artists of Utopia including those of the mid-career artists Janet Golder Kngwarreye and Teresa Purla as well as senior artist Jeannie Mills Pwerle.
Teresa Purla paints the country of her grandmother, the famous artist, the late Minnie Pwerle in whose country she says the tracks of her creation ancestors can be seen in an extremely beautiful area surrounded by towering gums along the banks of a large and often-dry river bed. " The tracks of my r ancestors as they danced can be clearly see in the imprints on  the smooth rock formations," she says.
Striking landscapes of Eastern Desert country as well as the plants used for bush medicine are also arriving for the upcoming solo exhibition by highly talented younger generation artist Selina Teece Pwerle.
The Summer Collector's Show runs until February 23. Selina Teece Pwerle landscapes and bush medicine exhibition opens on March 5.
---
EVERYWHEN ARTSPACE – 39 Cook St, Flinders.
P: 5989 0496
E: info@mccullochandmcculloch.com.au
W: mccullochandmcculloch.com.au
Open Fridays-Tuesdays, 11am-4pm and Wednesdays & Thursdays by appointment.
Peninsula Essence, Arts & Antiques – February 2021