The sun is shining, the weather is warming up and it has been a long time in lockdown.
With Victoria's vaccination on the rise, we are well on target for people and businesses to start preparing to come out of Covid restrictions.
This will be a busy time now for everyone across Victoria to get back to a Covid normal along with kids returning to school.
We have spent a lot of time in our homes or offices and has likely had very high traffic and usage in such a closed off environment but it's now time to let the fresh air in and open up your windows!
You're probably wondering where to start…
Getting back to normal isn't easy and there is quite a bit to do. Many of us may even be scratching our heads on how or where to start.
The solution is outsourcing and hiring a professional cleaning company that can perform a spring clean for your home or a deep clean for your office.
By outsourcing the cleaning task to a professional cleaning company, it may be one of the best things you do for yourself. It means you will be taking the stress off you and leaving the hard work to the professionals who do this day in and day out.
The benefits of hiring a company to do a thorough Spring Clean of your home or Office is not only for the health aspect but the peace of mind knowing that you can reset your environment in a One-Day blitz that can bring your environment back to normal quickly without doing any of the hard work.
Spring Cleaning offers great health and wellbeing benefits to you and your family and in turn reinvigorates your space bringing in a new energy.
Here at Essential Home Services, we take our cleaning seriously and pride ourselves on delivering integrity, professionalism and commitment to the service, meaning that you will hire a company who cares and genuinely wants to deliver an amazing result.
Our trained team members, friendly office crew and predictable cleaning systems will ensure that you get a great outcome! If we don't meet your expectations, we will come back free of charge with our 'Touch Up Guarantee' promise.
We aim to make the process as easy as possible!
Your first step is to speak to one of our friendly office team members to understand your home or environment better, the second step is to then arrange one of our amazing representatives to come visit you for an appraisal and lastly, discuss the details of the service that best suit you and your needs.
Visiting your home helps us better understand the activity levels and environment of your home or office so we can communicate clearly to our cleaning service people through briefings, detailed work orders and phone communications.
It is also an opportunity for us to explain better how our services work and what we can offer to make a difference in your life. Once you are happy to go ahead with our services, we will then set up your schedule in our system and send a team out to clean your home with no fuss.
Our customer relations management system will automatically repeat your clean on a weekly, fortnightly or monthly routine, this way you can expect your service to occur regularly and you won't have to lift a finger!
So call us today and experience for yourself a cleaner environment with Essential Home Services – cleaning made easy!
Take the time to visit our website and read our reviews.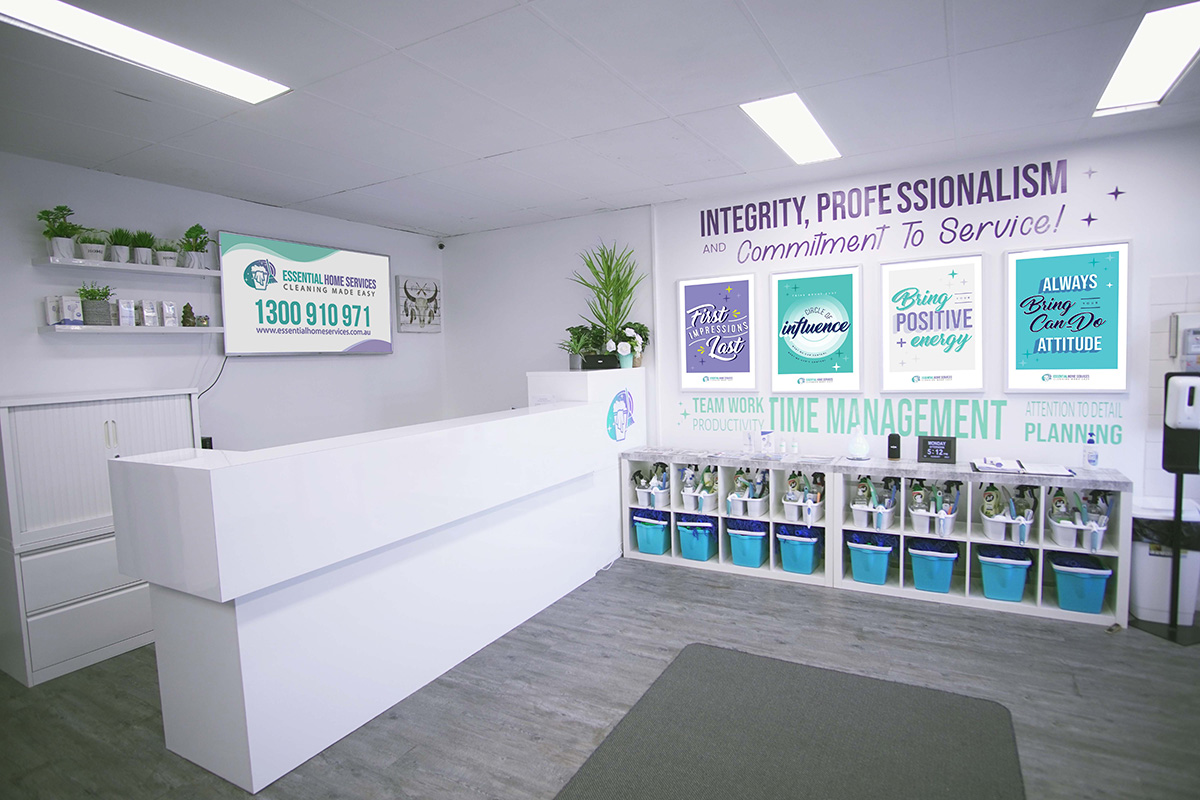 P. 1300 910 971
E. enquiries@essentialhomeservices.com.au
www.essentialhomeservices.com.au