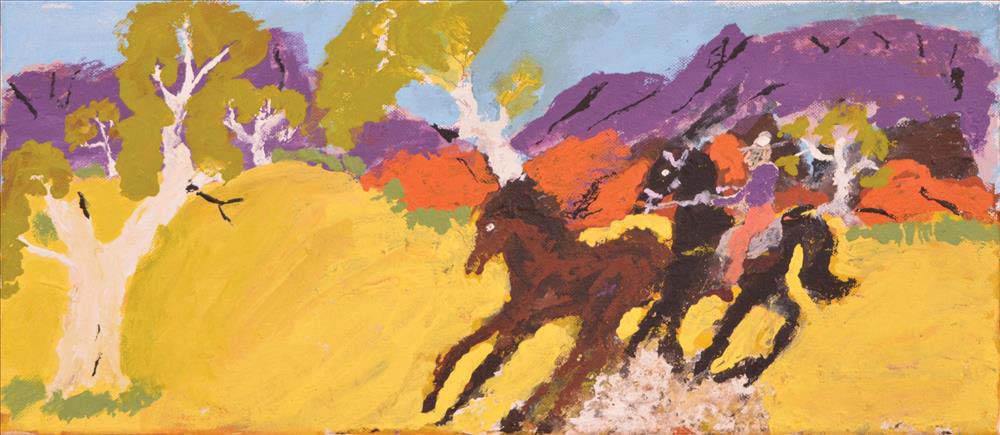 Exhibition opens Saturday May 19th until Sunday June 3rd
An exhibition that demonstrates the empowerment of Aboriginal artists with disability to develop high level art careers opens at Shoreham's house gallery Whistlewood this month. Beautiful Art/Proper Way showcases joyous paintings that offer very different views of Central Australia whose small scale belies their vast subject matter.
Artists Billy Tjampitjinpa Kenda, Jane Mervin and Lance James from Bindi Mwerre Anthurre artists Alice Springs are all disabled with restricted mobility, yet their imaginations run free in colour filled paintings that capture the essence, beauty and life of the region with wit, humour and engaging individuality.
Western Arrernte painter Billy Tjampitjinpa Kenda captures the daily activities of the region's visitors as well as its traditional owners. Kenda's Central Australia is no static, empty landscape but one in which tourists clamber up rocky outcrops and crowd on to buses and cars, noses pressed eagerly to windows as they drink in the views. Helicopters hover over the MacDonnell Ranges – a quizzical kangaroo peeks from behind a rock while eagles swoop through an intense blue sky.
In contrast to Kenda's populated views, the paintings of Lance James from the more remote Pitjantjatjara community of Docker River offer a wider take on the desert landscape. Having observed the regions' many wild horses and stockmen since childhood, he portrays them traversing the lands rounding up cattle, mustering, droving or simply galloping through the wide outback.
Jane Mervin draws inspiration from birds – especially owls – as well as flowers, hills and trees, which she paints with quirky vibrancy.
The art careers of all three artists are made possible by the social enterprise art studio Bindi Mwerre Anthurre Artists. Established in 2000, Bindi assists disabled Aboriginal artists living in or near Alice Springs to achieve cultural enrichment and empowerment by assisting them to develop a career in fine art. Approximately 6-8 artists with a range of disabilities work regularly in the studio. Their art has developed a distinctive and high profile place in the Australian art world with works in leading collections including the National Gallery of Australia, the National Gallery of Victoria, the Art Gallery of New South Wales and the Art Gallery and Museum of the Northern Territory.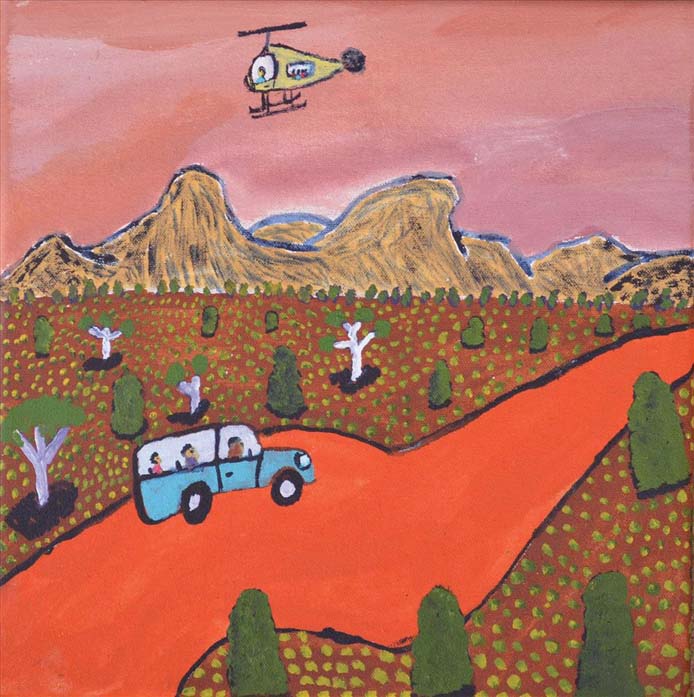 ---
Bindi Mwerre Anthurre Artists' Arts Coordinator Sandra Brown is traveling from Alice Springs to Whistlewood to open the exhibition on May 19.
Exhibition opens May 19. Current until June 3.
WHISTLEWOOD | CONTEMPORARY AUSTRALIAN ART
642 Tucks Road, Shoreham, Vic, Australia, 3916
OPEN: Fridays, Saturdays, Sundays & Public Holidays 11am-4pm
E: info@mccullochandmcculloch.com.au
T: +61 3 5989 8282