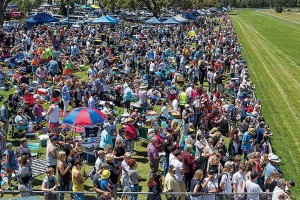 THE Picnic Racing season is about to begin at Balnarring with the first race meeting set down for Saturday November 7.
The Balnarring Picnics are famous for having entertainment for everyone of all ages. There are many and varied food vendors offering a wide and varied range of food. The on course bar will also be in operation for those who do not bring their own drinks.
The children's playground is always a hive of activity with jumping castles and face painting adding to the entertainment for the children.
Come with your friends and share a picnic rug on the hill with a great view of the finish line as the sound of the horses hooves thunder past to the roar of the crowd or just bring a comfy chair and settle yourself in under the shade of the beautiful messmate gums.
Take a walk over to the stables where you can view the horse of your choice before it competes and then watch as it prepares to race and make its way to the mounting yard. Here you can see the jockeys in their colourful silks receiving last minute instructions from the trainer before the race commences.
There are many bookmakers on site to place a bet or use the facilities of the on course TAB. Both bookmakers and the TAB bet on local, city, provincial and interstate race meetings. There is also a "punters club" in operation where for an investment of $20.00 you can have the work done for you.
The Balnarring Picnic Racing Club have been very active in the community supporting local organisations including Balnarring Occasional Care, Balnarring Bridge magazine and others in fund raising events and the club is committed to continuing its support of local events.
On Saturday November 7 gates will open at 10am with the first race at 1pm
Entry is $10 for adults with children and students under 18 free. Pensioner Concessions apply.
Bring a picnic, a bottle of wine and a comfy chair and settle yourself in for a relaxing day at the "Balnarring Picnics".
First published in the Western Port News – 3 November 2015