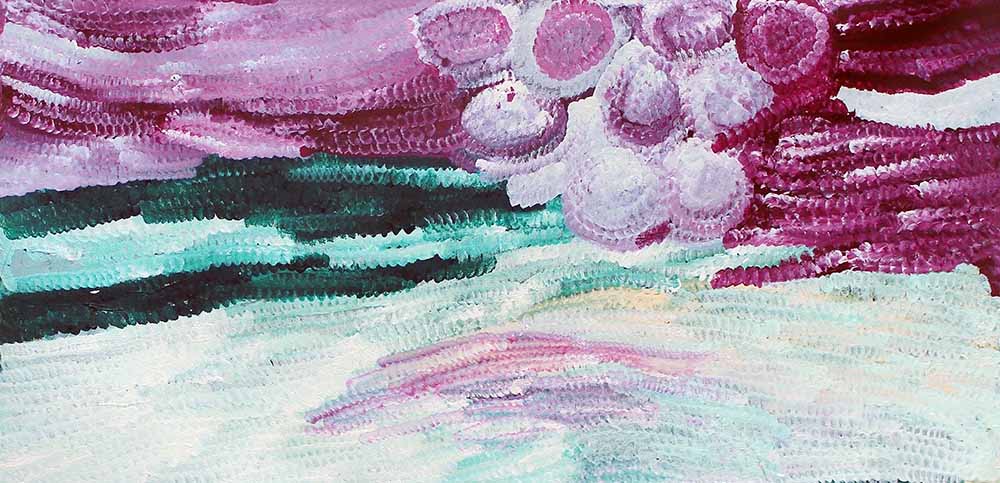 Saturday March 9 until April 7, 2019
To coincide with International Women's Day, Everywhen Artspace is presenting an exhibition called The Colour Purple featuring a wide variety of art by Aboriginal women artists from around Australia.
"Purple was chosen by the British suffragette movement in 1908 as the lead colour of the three colours felt to best symobolise the cause,' says Everywhen's co-curator Susan McCulloch. "Reason's given for choosing the colours were given as "Purple is the royal colour… It stands for the royal blood that flows in the veins of every suffragette, the instinct of freedom and dignity… White stands for purity in private and public life… Green is the colour of hope and the emblem of spring."
"The Colour Purple is of course also the name of the Pulitzer Prize-winning book by Alice Walker that brought to light the hugely challenging issues faced by African-American women in the Southern United States in the 1930s. It was later the inspiration for the film of the same name starring Whoopi Goldberg and Oprah Winfrey. As such, we felt it was a great name for an exhibition to pay tribute to women and especially First Nations women both in Australia and other countries."
Susan says that while preparing for the exhibition, she and co-curator Emily McCulloch Childs found it quite surprising how often purple along with green and white appears as in Aboriginal art. "It's definitely not a colour that one thinks of when thinking of Aboriginal art, but the more we looked at works that had come into the gallery or being offered to us by Aboriginal art centres around Australia, the more we saw purple being used in a surprisingly wide variety of paintings." These include ochre works from the Kimberley and the Tiwi Islands, acrylic paintings, works on paper and metal sculptures from the from the APY Lands, the Pilbara, the Eastern, Central and Western Deserts and Far North Queensland."
The exhibition will be opened by actor, author and artist Kerry Armstrong on Saturday March 9 at 3pm and runs until April 7.
EVERYWHEN Artspace, 1/39 Cook Street, Flinders, 3929
Open daily 10.30am – 4pm
T: 0419 896 473 | E: info@mccullochandmcculloch.com.au