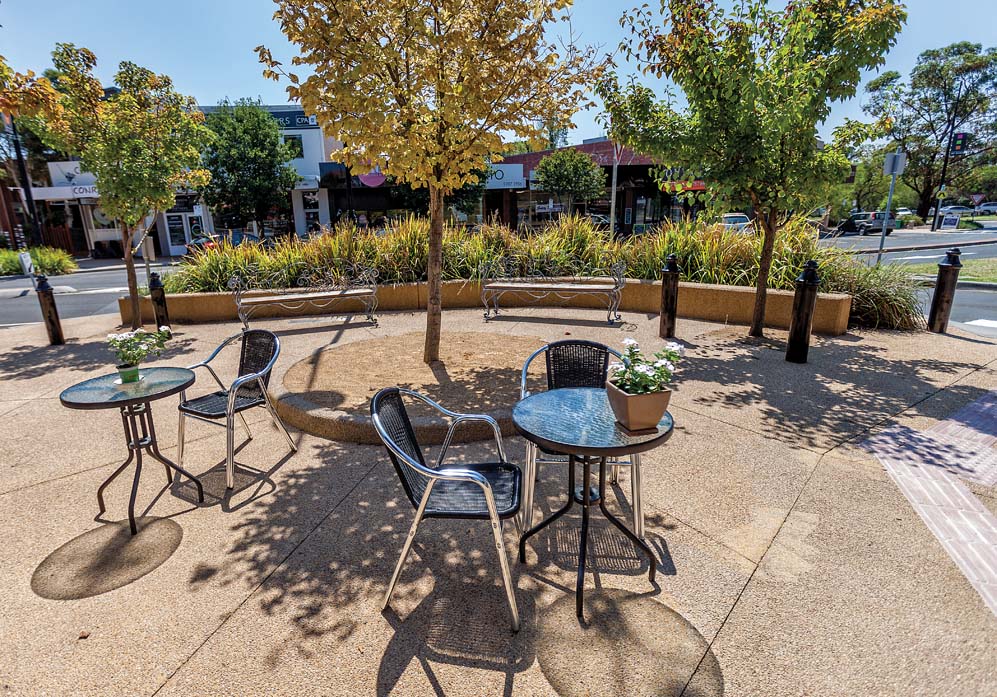 Mount Eliza is a bustling seaside village nestled between Frankston and Mornington 46km south of Melbourne. The town centre is known as Mount Eliza Village, and is the main shopping area for the suburb. The population is 17,888 and the median house price in Mount Eliza is $1,175,000 (buy) and $650 per week (rent).
---
The coastline around Mount Eliza consists of jagged cliffs featuring scenic walking tracks above stretches of secluded sandy beaches in small bays and coves below. Access to most of the beaches along the coast is via residential streets which offer small car parks at their end points. Those residential streets feature upmarket dream homes and weekend retreats, many of which have spectacular views along the coast. Mount Eliza has many great cafes specialising in breakfast and lunches and some fantastic restaurants.
---
The attractive commercial centre of Mount Eliza is located about one kilometre inland along Mount Eliza Way and Canadian Bay Road, and features supermarkets and a number of specialty shops.
---
The Mount Eliza Regional Park, accessed via Two Bays Road, incorporates the former Moorooduc Quarry and offers views across the surrounding plains. At the southern end of the park is a lake with picnic areas and a playground. The Mornington Tourist Railway, which offers steam train rides, has its Moorooduc station located adjacent to the Mount Eliza Regional Park.
---
Mount Eliza was named in 1836 by Captain William Hobson after either Eliza Elliott, his wife, or Elizabeth Callaghan, the wife of John Batman.
---
Prior to large scale subdivision, Mount Eliza was mainly a location for holiday homes. This began to change in the early half of the 20th century when many old estates were subdivided. One such subdivision was Ranelagh Estate, designed by Walter Burley Griffin and Marion Mahony Griffin in 1924 in tandem with the surveyors Tuxen and Miller.
---
Mount Eliza Post Office opened on 15 November 1920.
---
There are several beaches and bays located in Mount Eliza, which include Canadian Bay, Daveys Bay, Half Moon Bay, Moondah Beach, Ranelagh Beach and Sunnyside North Beach.
---
Daveys Bay was named after James Davey who constructed a jetty in the 1840s to ship his produce to Melbourne. In 1909 the Daveys Bay Yacht Club was established, and there is a walking track overlooking Mount Eliza beach on the shores of Canadian Bay, which was named after three Canadians who owned a sawmill in the area in the 1950s.
---
In 1928, the independent girls school Toorak College was built and is one of the oldest independent girls schools in Victoria.
---
Hollywood glamour came to Mount Eliza in 1959 when movie stars Fred Astaire, Gregory Peck and Ava Gardner arrived to shoot the Stanley Kramer film, On the Beach, based on the novel of the same name by British novelist Nevil Shute who had lived at nearby Langwarrin.
---
Adjacent to Sunnyside Beach sits a historical property Morning Star Estate which has also been in a number of films, including a three-month location shoot around the mansion for the movie Partisan, starring French actor Vincent Cassell. The mansion was the location for the Kath & Kim movie spin-off Kath & Kimderella.
---
The Mount Eliza Cricket Club is one of the most successful cricket clubs on the Mornington Peninsula with ten First Eleven premierships and a total of more than 55 including the Juniors. During the 1980s the club was heralded as the largest cricket club in Australia with nine senior teams and eight junior teams.
---
Mount Eliza has its fair share of celebrities. Deborah Lee Furness and Hugh Jackman have been spotted visiting. Real Housewives of Melbourne star, Gamble Breaux and her husband, Rick Wolfe, live in Mount Eliza.
COFFEE SAFARI
Fresh brewed coffee is a must have for weekends away and Mount Eliza is a must visit destination with great coffee haunts around the town. Here are a few to check out when heading to this trendy township.
CAFE ON THE MOUNT
2/87 Mount Eliza Way
Homey café with good food and great coffee in a relaxing chilled atmosphere
---
SHOP ATE CAFÉ
8/87 Mount Eliza Way
Great place for coffee and the best breakfast and lunch
---
POP'S CAFÉ
34 Ranelagh Drive
Great serving portions for meals and perfect for coffee and cake as well
---
DEGANI MT ELIZA
89 Mount Eliza Way
Excellent coffee and great food with choice of indoor or outdoor seating
WHAT TO DO?
Mount Eliza is a bustling seaside village nestled between Frankston and Mornington, offering a range of cafes, fabulous restaurants and galleries galore.
The town centre is known as Mount Eliza Village, and is the main shopping area for the suburb, with cafes of all kinds offering a wonderful assortment of choices for every taste and budget. Relax in the main Mount Eliza Village as you wander along looking at an assortment of boutique and retro shops, with galleries offering an eclectic variety of art and sculptures.
Home to the Morning Star Estate, the Manyung Gallery and the lush gardens of the award-winning Eden Gardens, Mount Eliza is a wonderful place to stop and smell the roses.
Take a walk down to the beaches where the horizon stretches for miles across the bay and discover the history of the township that has been home to film stars and celebrities for years.