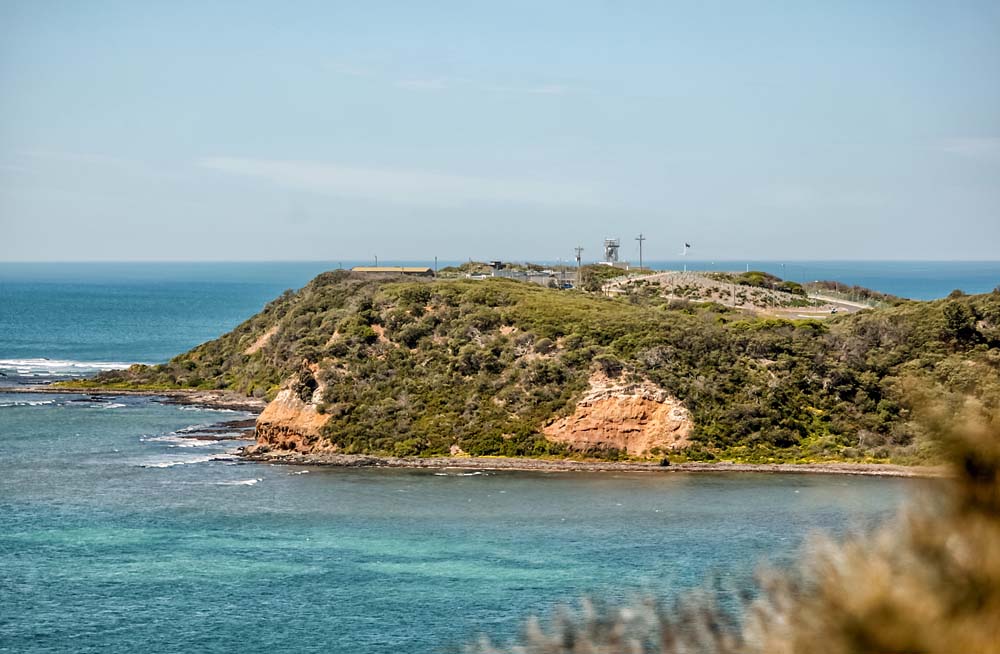 Flinders is a town south of Melbourne, located on the Mornington Peninsula at the point where Western Port meets Bass Strait. It is 86 km from Melbourne. Flinders is located close to the southern tip of the Mornington Peninsula, fronting onto the calm waters of Western Port in the west and offering a rugged coastline of cliffs and ocean beaches along its southern frontage onto Bass Strait. Flinders is an appealing holiday destination due to its scenic coastal location amongst rolling green hills and the fact that commercial development seems to have forgotten this town, instead preserving the area's natural beauty and scenic views.
---
Flinders was established in 1854 and has a population of 860 (2011 census)
---
The town was named by George Bass after his friend, the explorer and British naval officer Matthew Flinders.
---
Settlement commenced in 1854 and many pioneers and settlers are buried at the Flinders cemetery.
---
Flinders Post Office opened on 7 March 1863 as the population grew.
---
A number of historical buildings exist within the town, complemented by several antique shops, the Flinders Fine Art Gallery and the popular Flinders Bakehouse Cafe.
---
Attractions along the coast include Bass Park which provides spectacular views down to the Flinders Jetty and across Western Port, as well as being home to a monument dedicated to George Bass and Matthew Flinders who were the first explorers in the area.
---
The Flinders Golf Course is situated above the cliffs and ocean beaches to the south, overlooking the Mushroom Reef Marine Sanctuary and bordering the Mornington Peninsula National Park. To the west of Flinders, just off Boneo Road, is The Blowhole which includes walking tracks along the rocky coastline and over huge bluestone boulders.
---
Flinders was the original home of Flinders Bread, available throughout Melbourne and the Mornington Peninsula. The company's operations are now based in Dandenong, but the bread is still available locally.
---
The Royal Australian Navy operate a weapons training facility and gunnery on West Head, with public access to this area being restricted.
---
The Mornington Peninsula was the home of the Boonwarrung people for perhaps 40,000 years, and areas near Flinders have indigenous cultural significance.
---
The median house price in Flinders is $1.5 million.
---
Some of the largest and most private holiday estates are in Flinders.
---
A symbol of the level of wealth in Flinders is the monolithic Besen mansion. The Besen family – one of Australia's richest dynasties and prolific arts patrons – engaged top-end architect firm Wood Marsh to create the strikingly curved home.
---
Flinders has always drawn the rich and famous including Chadstone shopping centre's John Gandel, singer John Farnham and businessman John Elliott, late prime minister Malcolm Fraser, the late cricketer Max Walker, retired AFL great Dermott Brereton and former Hey Hey it's Saturday host Daryl Somers.
COFFEE SAFARI
Fresh brewed coffee is a must have for weekends away and Flinders is a must visit destination with great coffee haunts around the town. Here are a few to check out when heading to this trendy township.
GEORGIE BASS CAFE & COOKERY
30 Cook Street
Good coffee, friendly staff and interesting and tasty breakfast and lunches
---
FLINDERS BAKEHOUSE CAFÉ
60 Cook Street
Great spot for afternoon coffee and cake and a chill, reading the paper.
---
PIER PROVEDORE
38 Cook Street
Excellent coffee with a good selection of organic food, with lots of healthy choices.
---
COOKIES & CO
10/33 Cook Street
Great coffee in this Cookies gourmet shop of bake me cookie dough.
WHAT TO DO?
A town south of Melbourne where Western Port meets Bass Strait, Flinders fronts the calm waters of the west along rugged coastline with a plethora of things to do. An appealing holiday destination due to its scenic coastal location amongst rolling green hills, enjoy leisurely walks, a hit of golf on the golf range that looks out over the ocean, The Blowhole with its coastal walk, food and wine galore with restaurants and cafes, art and galleries.stars and celebrities for years.
Photography: Yanni